Released: 2011
Director: Ruaridh Arrow
Starring: Gene Sharp, Robert Helvey
A fascinating look at how countries escape dictatorship

Seeing a documentary in the cinema always feels strange.  When I think of factual films I tend to imagine something serious (and tedious) on Channel 4 or BBC 2 rather than a night out at the movies.  Like him or loathe him, Michael Moore can certainly be credited with making the documentary cinematic and newsworthy, changing perceptions about the place of documentaries in cinema programmes.  Despite this the last time I went to the pictures for a documentary was to see Moore's Farenheit 9/11.
This year's Raindance Festival has a full strand of documentary features and there's a few that I'm making the effort to watch.  The most appealing on this year's programme was Ruaridh Arrow's study of Gene Sharp and his work on non-violent opposition to dictatorship – How To Start A Revolution.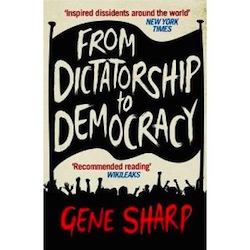 Gene Sharp is Professor Emeritus of Political Science at the University of Massachusetts Dartmouth and founder of The Albert Einstein Institution which studies methods of non-violent resistance to oppressive governments. Sharp has written extensively on how dictatorships should, and can, be overthrown by peaceful methods.  How To Start A Revolution is predominately concerned with Sharp's book From Dictatorship to Democracy
, the 198 non-violent "weapons" that he claims are effective and how his work has influenced non-violent regime change in Serbia and Egypt.  Syrian opposition leaders are looking to Sharp for help today.
Many of Sharp's 198 instructions seem so obvious that it's amazing that no-one had ever written them down before 1993.  These include recognisable plans such as having a unifying emblem, using symbolic colours, having protest signs in English to help your message spread globally and mocking/satirising dictators.  It all seems so natural that a Burmese opposition fighter asked "Why have we not heard this before?"
The most striking aspect of the documentary is the use of archive footage and still images to illustrate Sharp's methodology in use.  The photographs of women handing flowers to soldiers during Ukraine's Orange Revolution in 2004 are particularly moving.  Also compelling is the testimony of Srdjan Popovic, a leader of the Serbian resistance movement Otpor! whose non-violent methods were instrumental in the defeat of Slobodan Milosevic.  Popovic now works with peaceful pro-democracy activists in over 50 countries including Zimbabwe, Tunisia, Iran, Venezuela and Egypt.  He credits Sharp's teachings as being vital in the uprisings in Serbia and beyond.
The documentary looks very briefly at the accusations that Sharp is a CIA operative hell-bent on destroying the enemies of America.  The professor naturally offers a denial but it's not the most convincing one I've ever seen.  I don't think he's a US government stooge but it might have been better had they not repeated the slur….
There are a couple of gaping holes in the documentary, predominately in the lack of examination as to what happens when non-violent opposition does not work.  Much is made of Sharp's involvement with the Burmese pro-democracy movement but despite decades of peaceful resistance the military junta is still in power.  The film is also open to accusations that it over-states the importance of Sharp's work.  While an Egyptian revolutionary is supportive, others have insisted that his work has had little or no impact on their protests.
No one ever said that a documentary had to be balanced, we just need it to tell an interesting and compelling story.  How To Start A Revolution certainly does that and introduces the viewer to a remarkable man who has dedicated his life to peace.  Hopefully Sharp's message of non-violent resistance will help and motivate those struggling to achieve freedom from tyranny.