Fambul Tok is a moving and ultimately uplifting documentary about the power of forgiveness and reconciliation which held its UK premiere at the Raindance Film Festival on 29th September.  Among those attending were human rights advocates, members of the Sierra Leonean disapora in London and students from a number of schools who are studying the Fambul Tok project.
I spoke to Executive Producer Libby Hoffman about the film, how the programme works and what her hopes are for the future of the film.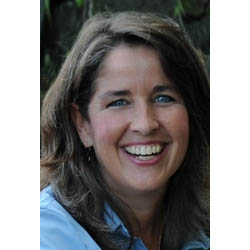 1.  What inspired you to make this film?
I was involved in the Fambul Tok project from the very beginning.  My background is in the peace building side of it rather than the film-making side.  I first met John Caulker when he was at a point of real frustration with the lack of reconciliation on the ground and had a vision for how it needed to be based at the most local village level.  We decided to work together to being the project into being.
We knew that the project would yield significant stories and that we had to begin documenting it.  We started filming from the very beginning of the programme as one of my commitments was to share the stories with the Western world.
2.  How important is it for you to share these stories in the West?
It's critically important.  The values that emerge from the Fambul Tok programme are universal.  The films looks at how you deal with difficult issues and asks what is justice?
3.  Do you think that survivors and relatives of victims feel that they do get justice from this process?
They do.  They do.  Partly because it happens in a community setting.  Someone who might have been carrying the burden of an atrocity themselves now has a whole village that, in their words, is helping them carry that burden and that feels like incredible justice.
The way Fambul Tok happens, in addition to bringing individual reconciliation between victim and perpetrator, it also involves the communities so that they are able to work together.  They say that this is the most significant point of the Fambul Tok process because it frees them to begin economic development which is the great need after the war.
I feel that the world has a lot to learn from Sierra Leone.
4.  How important are festivals like Raindance to you?
They are critically important, and Raindance particularly as there is such a large Sierra Leonean diaspora community here and also because there's a large student and educational interest in Fambul Tok here.
Festivals in general open up the conversation to communities who can be inspired to take it forward and that's what we're hoping.  We want people to take the film forward and screen it in communities, in organisations, schools, workplaces, churches.  In places where it can foster conversation.
5.  How can people share Fambul Tok in their communities?
They can host their own screening.  All the information is available on our website.