Of all the Top Ten lists I've done so far, or am likely to do, the Top Ten Movie Musicals is the toughest I can imagine.  I love musicals, be they on stage or screen, and without a doubt they are my favourite film genre.  The first video that my family owned was The Wizard of Oz and I can still see the large yellow box and recall the feeling of excitement whenever we watched it.  If I need cheering up it's to my collection of musicals that I always turn.
Coming up with a Top Ten was a nightmare.  I'm still not sure if I've got it right, I may come back in six months and create a completely different list.  For the moment though, here is my Top Ten Movie Musicals.
This will always be at number one on my list no matter what changes from 2-10.  It is, quite simply, the greatest musical of all time.  Gene Kelly's choreography dazzles, Donald O'Connor is the perfect comedy sidekick and Jean Hagan is outstanding as Lina Lamont.  I've already berated those who haven't seen it (including my husband) so all I can do is urge everyone once again to watch this great film.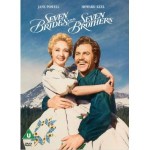 2.         Seven Brides For Seven Brothers
There aren't that many musicals based on the mass abduction of women in one of the world's greatest cities.  In fact, Seven Brides for Seven Brothers is the only one I can think of.  Loosely adapted from the legend of the Rape of the Sabine Women, this film follows the seven Pontipee brothers as they fall in love and take their wives.  Howard Keel is a charismatic and powerful leading man and the choreography by Michael Kidd is a joy, particularly the extended scene where the brothers and brides meet for the first time.
3.         High Society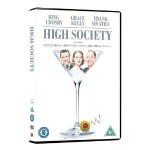 A remake of The Philadelphia Story, High Society stars Bing Crosby, Frank Sinatra and Gene Kelly in the tale of a man trying to stop his ex-wife marrying for a second time.   Highlights include the Crosby/Sinatra duet Well Did You Evah? and Sinatra and Celeste Holm examining gaudy wedding gifts while singing Who Wants To Be A Millionaire?  High Society is notable as Grace Kelly's final film – after its completion she married Prince Rainier of Monaco and became real (and not just Hollywood) royalty.
My Dad would never forgive me if I didn't include a Doris Day film on this list.  The archetypal good girl of the movies, Doris Day is best known for her virginal persona and sweet singing voice.  Calamity Jane was released in 1953 and is the highly fictionalised account of the relationship between "Calamity" Jane Canary and gunslinger Wild Bill Hickok.  Howard Keel co-stars and the couple are a charismatic and engaging leading duo.  Ideal for a rainy Sunday afternoon.
There are so many Disney films that I could have included in this list including Beauty and the Beast, Mary Poppins and The Lion King.  For me though The Little Mermaid beats them all.  Ariel is a sparky heroine and the cast of characters is superb from Flounder the fish to Ursula the evil sea witch.  And really, nothing can top a film which includes the lyric "nobody beat us, fry us and eat us in fricassee".
Leonard Bernstein and Stephen Sondheim's classic retelling of Romeo and Juliet is set among gangs of different ethnicities living in New York.  Beautiful Maria, whose brother leads the Sharks, falls in love with Tony who is trying to move on from the Jets.  The relationship leads to tragedy and an incredibly moving final scene.  A good performance of Somewhere is guaranteed to move me to tears.
7.         Grease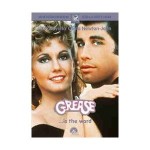 The eternal good-girl/bad-boy love story set in a 1950s high school.  Virtuous Sandy falls in love with rebel Danny in a summer romance but the relationship hits some bumps when they are reunited at school.  John Travolta and Olivia Newton-John are great in the lead roles but the acting plaudits go to Stockard Channing as wild girl Rizzo.  My only concern is what the hell all these people in their mid-30s are doing in a school?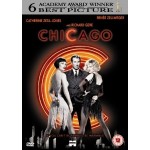 8.         Chicago
Rob Marshall's adaptation for the screen of the Bob Fosse stage musical was a huge success in 2002 and proved that audiences still have an appetite for decent musicals.  Renee Zellwegger is good as Roxie Hart, Richard Gere impresses as sleazy lawyer Billy Flynn but the film belongs to Catherine Zeta-Jones as Velma Kelly.  Whenever Zeta-Jones and Zellwegger are on screen together you can tell which one has the real singing and dancing talent.
I sometimes think that perennial bank holiday favourite The Sound of Music has become a victim of its own success.  I genuinely don't know anyone who hasn't seen it at least five times and the story of the von Trapp family escaping from the Nazis is very well known.  The familiarity, sing-a-long showings and the Andrew Lloyd Webber talent search have all contributed to a cheesy image, but that shouldn't detract from the brilliance of this seminal musical.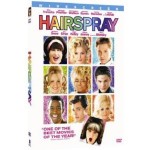 10.       Hairspray
There are better films and better musicals than Hairspray but it is a favourite of mine.  Based on John Waters' 1988 story of a "pleasantly plump" girl challenging racism and stereotypes in 1960s Baltimore, this version is full of the joie de vivre that makes musicals so enjoyable.  John Travolta is brilliant as Edna Turnblad  – in fact the whole cast is superb.  I defy anyone not to have a huge smile on their face during the rapturous final number.  This is what a musical should be.
There are so many brilliant musicals to choose from that I know I've missed some real crackers off this list.  Is your favourite on here or is there something you can't believe I've omitted?  If you're new to musicals is there anything here you'd like to see?  Let me know in the comments.