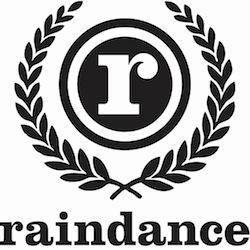 The 19th Raindance Film Festival was launched today in London and it looks like it will be the strongest year yet.  In just 12 days the festival will host 18 World Premieres, 21 European Premieres and 49 UK Premieres with films coming from 38 countries around the world.  The festival aims to showcase the best in independent movies from first-time filmmakers and past premieres include Pulp Fiction, Memento and The Blair Witch Project.
Founder of Raindance, Elliott Grove, spoke to us this morning at a venue in the West End and his passion for independent cinema and determination to champion the cause of new filmmakers really shone through.  His assertion that the festival is "the big champion of the little guy" is borne out by the number of films submitted for consideration.  Over 3,000 applied with 98 features and 137 shorts accepted.  People want to be part of Raindance.
The festival is organized into a number of different strands including Homegrown – which will promote the best in Independent British Cinema, Documentaries, European Cinema and an exciting looking Balkan Cinema strand which features Tilva Rosh, an intriguing sounding film about skaters which was described this morning as "Jackass meets Stand By Me".
On a first look at the Raindance programme I found 38 films I want to see. These range from Holy Rollers, a documentary about a blackjack team of church-going Christians to By Night and By Day, a Mexican feature which imagines a world where over-population has forced the Government to divide people into day or night inhabitants by implanting an enzyme in their DNA.
The line-up of UK films looks especially good.  I'm particularly looking forward to the mockumentary Black Pond starring Chris Langham and Simon Amstell, about a family accused of murder when a stranger dies at their dinner table.  This will be one of the big talking points of the festival.
I'm also going to make sure I watch Mesocafe, about an Iraqi blogger who comes to London to campaign against UN sanctions imposed on his country.  I'm really excited to see films included which highlight the cultural diversity that we enjoy in the UK.
Elliot Grove said this morning that the programme consists of "films that really deserve to be shown".  I would go further – the fact that over a third of the programme immediately grabbed my interest tells me that these are films that need to be shown.
For more details visit the Raindance website.