Released: 2011
Director: Cristián Jiménez
Starring: Diego Noguera, Nathalia Galgani
An off-beat romance that's too clever by half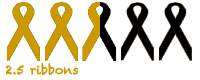 And so after 12 days, 94 feature films, 137 shorts and more than a couple of milkshakes at MADD, the 19th Raindance Film Festival has come to an end.  Over the next few days I'll be posting more reviews and listing my ten favourite films.  The festival closed last night with a multi-screen gala performance of Bonsai, an off-beat love story from up-and-coming Chilean director Cristián Jiménez.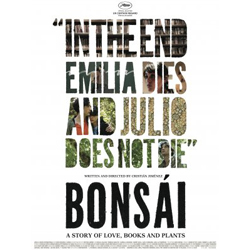 We know from the very beginning that the film won't have a happy ending.  We are told that Julio lives and Emilia dies by the close, so no surprises in store for the audience, just a gradual wait to see who Julio and Emilia are, what their relationship will be, and how Emilia will die.
The story is told in two time frames, the present day and eight years previously.  Julio is a would-be novelist trying to impress a lover with his non-existent collaboration with a famous writer.  In order to answer her questions about the plot he weaves in details of his own college relationship with Emilia.  Throughout the film are numerous references to literary greats including Proust whose Remembrance of Things Past acts as inspiration for the structure of the film.
The acting by Diego Noguera and Nathalia Galgani as Julio and Emilia is excellent, Noguera especially is touching and funny. The script has some exceptionally amusing moments and there's a lightness of touch and a humour that belies the tragedy we know is coming.
Despite all of its good points I had a couple of real issues with Bonsai.  Every film should be about the audience.  It should aim to do something for them – be it entertain, challenge, shock, entertain, whatever is appropriate.  Bonsai isn't about the audience at all.  It's all about how clever director Cristián Jiménez is.  Look at me the film shouts – I've read Proust, I've understood Proust, I'm going to make an ever so hip film about Proustian love in Santiago.  And while I'm at it I'll throw in quirky cuts, and images of my characters standing about wordlessly in fields.  If I wasn't a lady I'd use a couple of particularly 'quirky' Glaswegian phrases to tell the director exactly what I'd like him to do with all his cleverness!
Another problem I had with Bonsai was the lack of a proper structure.  By structure I don't mean that I objected to the jumps in the time frame, those were absolutely fine.  What I didn't like was the lack of a proper beginning, middle and end, especially the lack of a coherent ending.  The finale wasn't ambiguous.  It didn't leave me wondering what happened next, it left me asking if the editors had inserted the credits too soon.  I wasn't alone in this confusion, I've never seen so many people wait in the cinema until the very end of the credits.
There was a lot of talent involved in the production of Bonsai.  Great writing, fabulous acting and gifted direction.  Next time, Jiménez should let the audience work out how brilliant he is for themselves rather than ramming it down our throats.