It shouldn't be this hard to find a Christmas book…
I started planning my 12 Days of Christmas feature in a little tinselly flurry. I was going to have so many posts that it would take me months to write them all. Some of the movie reviews were obvious – It's A Wonderful Life, The Muppets' Christmas Carol. The top tens slipped into place quickly too – Christmas Movies, Movie Santas jumped to mind and of course the top ten Christmas Books. On that list there would be A Christmas Carol
and…. and….. and, well this was just silly. Surely I could come up with 10 Christmas books that I had read and loved and could include in a list. I thought and thought and thought and inspiration just wasn't coming my way. That wasn't really problem – it just meant that I had to go and find some more books to read quickly, it would be tough to have to add some more titles to my to-be-read pile but I'd just about manage.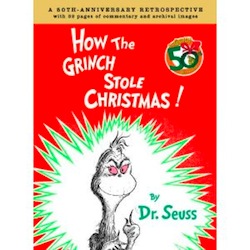 Have you ever tried to find books with a Christmas theme? It's not as easy as you would think, especially if you are looking for books for adult readers. Kids' books are easy, particularly for little ones. Lots of picture books and images of Santa leaving presents for blonde, cherubic children – there's some classic children's books as well including How the Grinch Stole Christmas
and The Snowman
but these are all aimed at an audience about three decades younger than me.
So I kept looking. In a bookshop the other day I noticed a whole table of books with Christmas trees and ice skating and winter scenes. This seemed promising so I browsed. Every book was exactly the same. They were all chick-lit books which promised handsome men and sparky girls meeting up, falling out and reuniting under the mistletoe. I've got nothing against chick-lit, in fact I am quite fond of it but not one of these offerings seemed in any way unique or decent enough examples of the genre to make me want to part with my cash. All were by authors I had never heard of and I got the impression that they probably were more about making some money rather than decent writing. Apologies to the authors/publishers if this is too harsh but it all seemed a little underwhelming and over commercialised.
I returned home, dejected. But the Internet would help me surely? I googled Christmas Books and got lots of suggestions for books to give as Christmas presents and even books wanted as Christmas presents (including my own post from a couple of weeks ago) but not very much in the way of books about Christmas. There were a couple of suggestions that interested me – The Santaland Diaries
by David Sedaris and John Grisham's Skipping Christmas
were both welcome ideas but everything else just looked twee or preachy. There were even a couple that terrified me to my very soul – a novel about the true meaning of Christmas by Glenn Beck? Please! Most disappointing of all there was very little that looked in any way original or unique.
So – I've admitted defeat. I tried to find enough Christmas themed grown-up books to create a top ten list but I couldn't. I have a couple, there will be plenty of reviews as part of The 12 Days of Christmas feature but sadly not as many books as movies.
Just because 2011 isn't going to be my year I've not completely given up on the thought of having a Top Ten Christmas Books feature this time next year. I challenge you to find me books for adults with a Christmas theme. They must be out there, let me know in the comments the novels (or other books) you think I would be crazy not to include.