Christmas is coming, Santa's nearly here.  Hooray.  I'll try not to get too excited too early and frustrate everyone but it's mid-November, perfect timing to start thinking about the festive season.
I'm now getting daily text messages from my mum updating me on her shopping.  Her sneaky way of finding out what I want isn't terribly subtle – along the lines of "Do you fancy a perfume? Which one?" than any roundabout way of trying to find out.  This year I'm ready for the request for a Christmas list that will inevitably arrive.  I've set up an Amazon wishlist and I'm adding books to it on an almost daily basis.
These are ten books from my Christmas list that I'd really love to wake up and find in my stocking and I'm sure that there's at least a couple of titles on here that will be ideal for the book-lover in your life.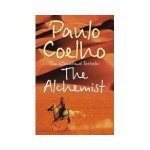 1.  The Alchemist
– Paulo Coehlo
World Book Night is only a few months away and like an idiot I've set myself a challenge to read any books on the list that I haven't already read.  That's the majority of the titles so it's really time to make a start.  Paulo Coehlo's The Alchemist looks like a charming story about following your dreams, something that we could all learn about.
2.  Before I Die
– Jenny Downham
I used to be a member of a great little book group.  The girls were all fantastic and the social element was great fun but the best thing about being part of our group was the fact that it challenged me to read books I would never normally have chosen.  Some I loved and some I hated and there were always some books suggested that weren't picked.  One that has stuck in my head is Before I Die, about a teenage girl coping with a terminal illness.  Perhaps not the most cheery subject but the book looks fascinating.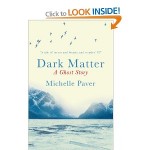 3.  Dark Matter
– Michelle Paver
I'm a bit of a fan of the Richard & Judy bookclub.  They always seem to pick titles which are accessible and enjoyable and I've yet to read one that I dislike.  I never seem to get round to reading all of the books on any of their lists but manage a few each season.  There's quite a few of the most recent books on my Amazon list but top of the pile is this ghost story set in the Arctic Circle.  Just reading the description of a young man haunted while on an expedition makes me shiver and not want to be alone in the dark…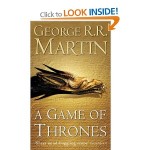 4.  A Game of Thrones
– George R R Martin
I've not seen the TV series starring Sean Bean, but I have heard a lot of good things about it and seen plenty of talk on Twitter and reviews of the series that make me curious about this fantasy saga.  I'm determined to read more fantasy novels over the next year or two and this epic series seems to be one which will either put me off the genre for good or create a whole new addiction for me.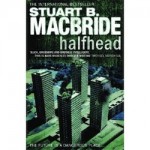 5.  Halfhead
– Stuart B. MacBride
One thing I've notice since starting this website is that I now get lots of suggestions of books to read or movies to see.  Friends who had never before shown an interest in reading are quick to let me know their favourite books.  I love that and eagerly receive every suggestion.  One friend recommended the novels of Stuart B. MacBride.  All look like great examples of the 'tartan noir' genre that I love so much.  Halfhead, a story of near future Glasgow where criminals are surgically mutilated and lobotomised is the one that I'm absolutely itching to get started on.  In fact it's going to take a lot of will power for me to hold off until Christmas.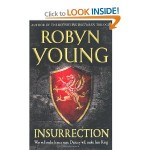 6.  Insurrection
– Robyn Young
Sometimes it's fun just to wander into a book store and have a mooch around, looking at the paperbacks on display and choosing which ones I want to take home with me.  Then there's the realisation that both money and space are finite and I head off with no new purchases but knowing what I would have bought.  The latest book to catch my eye has been Robyn Young's Insurrection, the first in a new trilogy about Robert the Bruce.  I expect it to play fast and loose with history, but be a decent and fun read at the same time.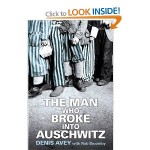 7. The Man Who Broke into Auschwitz
– Dennis Avey
Regular readers may have picked up on the fact that I have an interest in the Holocaust and related issues.  The human stories are the ones which appeal to me – the survivors, the witnesses, bystanders and perpetrators and most of all the rescuers.  The people who risked their own lives to save others.  Dennis Avey was a British Prisoner of War being held near Auschwitz who swapped places with Jewish inmates.  Dennis was unable to speak about his experiences for several decades but this is his own story and a unique perspective on an important period of history.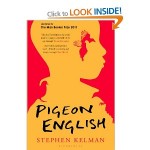 8.  Pigeon English
– Stephen Kelman
Yes, I know Booker season is over and I've missed the boat in reading the shortlist and naming my winner before the judges.  Prior to the announcement that Julian Barnes had won I had only read A.D. Miller's Snowdrops.  A month on and nothing much has changed other than the fact that The Sense of An Ending and Jamrach's Menagerie are now on my To Be Read pile.  This year's shortlist has appealed to me more than most and this tale of immigration, refuge and innocence looks like a fascinating read.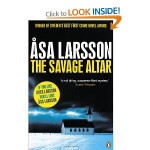 9.  The Savage Altar
– Asa Larsson
I've recently read novels by both Stieg Larsson and Jo Nesbo and have Henning Mankel on the To Be Read list.  I'm keen to read more Scandinavian crime literature.  The works of Swedish author Asa Larsson were recommended and her first novel The Savage Altar about a corporate lawyer investigating the gruesome death of a famous author looks gory, exciting and right up my street.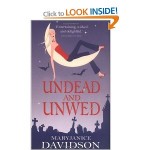 10.  Undead and Unwed
–  MaryJanice Davidson
Two #BookTwub discussions in a row brought up the Undead series of comedy vampire novels by MaryJanice Davidson.  I've not read a huge number of vampire stories but there's a real fashion for them at the moment and I'm nothing if not a slave to fashion (ok, that's a lie).  The Sookie Stackhouse stories have also been suggested and are on the longer list but the stories of 30 year old Betsy Taylor who could be the fabled Queen of the Vampires but is more interested in reclaiming her designer shoe collection looks very, very funny.
Have you read any of these books? Which would you recommend and what's on your Christmas list?  Let me know in the comments.