Released: 1987
Director: Joel Schumacher
Starring: Jason Patric, Corey Haim, Kiefer Sutherland

A genre defying 80s teen horror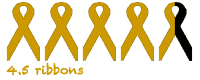 When planning Hallowe'en Horror Week I was wondering which films to review and the obvious titles sprung to mind.  The Exorcist – but I don't own it on DVD and didn't fancy buying it; Saw – maybe, but I didn't relish watching it again and paying enough attention to give a fair review; A Nightmare on Elm Street – well, obviously.  That left me though with some gaps in the schedule, what else would I review?  As so often when I'm trying to think I turned on my iPod and hit the shuffle button.  I expected it to get my creative juices flowing, but I didn't realise it would give me the answer on a plate.  About three songs in Gerard McMann's Cry Little Sister came on and it was obvious.  I had to review The Lost Boys
.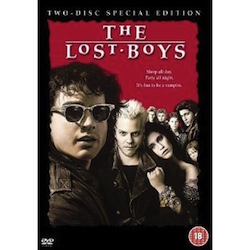 My one concern was that I wasn't convinced that The Lost Boys was a horror film so I asked the great hive mind that is Twitter if it could be counted within the genre.  The was yes, but there was also a recognition that the film defies many conventional norms and really has a genre all of its own, a coming of age 80s teen horror comedy.
Made in 1987 this is a brilliant vampire story which is undoubtedly a classic.  Brothers Michael and Sam move with their newly divorced mother Lucy to live with their grandfather in California.  Santa Carla is a depressed seaside town, jobs are scarce, graffiti proclaims the town to be the murder capital of the world and the area is plastered with missing person posters.  Michael becomes infatuated with the beautiful Star and through his involvement with her becomes entangled with a local gang.  Meanwhile Sam meets Edgar and Alan Frog at the local comic book store who warn him about the vampires in town.  Initially Sam scorns the Frog brothers but he becomes increasingly convinced that Michael is becoming a creature of the night.  Together Sam, Michael and the Frogs attempt to kill the head vampire and return Michael to normal.
The cast is an absolute joy.  Kiefer Sutherland is charismatic, frightening and surprisingly touching as David, leader of the vampire gang.  Jason Patric is moody and sexy as Michael but the best performances come from Corey Haim and Corey Feldman as Sam and Edgar.  Both boys commanded the screen when they were younger, and never more so than in The Lost Boys.  It was a real tragedy to see them falter in later life and in the case of Corey Haim, die ridiculously young.
The performances are perfect, that's not to say that the acting is great as it really isn't but everyone sells their roles with passion and sometimes that's more important than acting skills.  The script is cheesier than a Tesco chiller cabinet (as is that line!) but who can't love a film which contains gems like "Death by Stereo" in the dialogue.
There are some creepy moments.  Joel Schumacher's direction ramps up the tension well, particularly in the earlier scenes where we are still unsure as to what is actually happening.  Another effective aspect of the movie is its music.  So many great songs that fit the action perfectly this is one soundtrack album that I listen to over and over again.
The Lost Boys isn't exactly terrifying but there are some gory moments which will satisfy normal bloodlust expectations.  The final fight sequence has a couple of great deaths.  Funny, fun and a coming of age tale as much as anything else, The Lost Boys is perfect for a cold autumn evening.