Empire Big Screen – Day Two Review
Guest post by James Eckersley
Having been warned about the organisation at the Big Screen event (Louise recommended bringing a patient face – not something I possess) I was pleasantly surprised that there was minimal effort required to get to our seats in the initial Diamond Ticket holders Showcase in the morning.  Giving up phone and camera were the main hardships, but understandable if we were seeing something unfinished that the film-makers didn't want to get onto the internet out of context.
We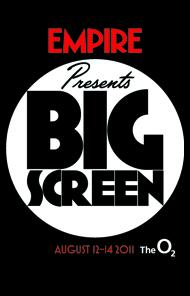 saw so much in the initial session that I can only really go into the highlights – there were big reactions from the crowd for exclusive footage from 'Sherlock Holmes: A Game of Shadows' (presented by Guy Ritchie), which looked good. I'll be interested to see Jared Harris as Moriarty and Stephen Fry play opposite Robert Downey Jnr as Mycroft, a brutal fight scene from Stephen Soderbergh's 'Haywire' – performed without stunt doubles, and 'The Amazing Spiderman' footage that screened at Comic Con. I'm not sold on the need to redo the origin story so soon after the 2001 original, but liked some of what I saw, particularly Martin Sheen as Uncle Ben.  Not so sure about the look of the Lizard.
We also saw impressive footage from 'Contagion' (also Soderbergh), British thriller 'Kill List' – which looks very unsettling, 'Drive' (more on that later) and 'Tinker Tailor Soldier Spy' – which looked great. Mark Strong and the makers of upcoming 'Welcome to the Punch' turned up fresh from nearby Canary Wharf where they are shooting a big action scene on the South Colonnade, and Roland Emmerich appeared to showcase a little too much footage from his upcoming Shakespeare film 'Anonymous'.  Not that it didn't look good, more that we didn't get much context for it.
We also got some bits from 'Twilight: Breaking Dawn Part 1' to remind me that Taylor Lautner seems to think he's acting in a Scary Movie style parody. Unintentional laughter in the room for that one.
The best presentations of the morning came from Aardman – first writer Peter Baynham presented clips from 'Arthur Christmas', their first CG film. It looks extremely technologically accomplished, and very funny – all stemming from Baynham's obsessive desire to work out how Santa Claus could actually deliver so many presents in so little time.
The other Aardman presentation came from Co-founder Peter Lord – taking us through 'Pirates! In an Adventure with Scientists!' This one is an old school claymation film, and looks like a knockout. Lord's delivery was excellent and his enthusiasm infectious. Check out the teaser trailer below, it's hilarious.
It didn't take long to become clear that Empire's scheduling of the morning was incredibly ambitious. There was simply no way they could fit so much in as scheduled, so some people had to leave to make other sessions. I also believe they were mirroring our session in the Cineworld Superscreen and big gaps appeared there as people rushed over from the Indigo2.
As the scheduling had gone out the window we only had a brief break before our session with Industrial Light and Magic, also in the Indigo2. After more queuing, this time more effectively marshalled by stormtroopers, we were in, and only running 15 minutes late. This session was essentially a bit of an advert for the upcoming blu-rays of the films, but was interesting because it featured a couple of ILM workers being interviewed by C-3PO himself, Anthony Daniels.
It was a somewhat candid discussion of old fashioned effects techniques vs CG, with the guys (whose names I unfortunately didn't catch as Daniels somewhat fumbled their intros) especially fond of the models they originally came in to build. They were obviously towing the Lucasfilm corporate line to some extent, but it was clear they're as unhappy with the replacement of the original model and puppet work with CG as most of the room was.
We made a quick exit from the Indigo2 to get to the Cineworld complex for what I was expecting to be a highlight of the day, the secret screening. We had been tipped off in the morning session that it would be 'Drive' Nicholas Winding Refn's Cannes Best Director winning action film about a stuntman and getaway driver, and indeed it was. I was excited to see the film so I was not disappointed.
What was disappointing was the utterly woeful queueing system put in place. We were ushered outside the O2, and four different people directed us to four different queues. Eventually we managed to find the correct one, but stood around for an age without any information or movement. The time for the screening came and went, with no one telling us that there was a delay, or what was going on. Eventually we were let back inside, only to have to queue again. Once we eventually got into the screen it was clear it had been oversold, and hordes of 'organisers' were milling around not doing much. Some people appeared not to get in, which is shocking for a ticketed event. Simple solution – print the seat numbers on the tickets. They can have that one for free.
Luckily the film dispelled any lingering disappointment, and it's clear why it's been getting so much praise. Presented by Refn himself, the film is at once an incredibly violent action film and an incredibly gentle love story. It's one to watch out for when it's released in late September. Ryan Gosling is superb, as it the whole cast. Albert Brooks is a particularly menacing stand out, in a role that could have been over the top, but which he instead grounds and makes believable.
After that it was around the corner to the Cineworld Superscreen to see 'Cowboys and Aliens'. I'd been looking forward to this, but had lowered my expectations based on the early reviews. It was sadly right to do so. Whilst not a bad film, it's not very well written. Daniel Craig doesn't really let the audience in to his character, and a lot of time is spent setting up Harrison Ford as a bad guy, responsible for all the townspeople's ills, only to have him seemingly abandon most of that for the rest of the film. His character actually gets to scoff at the aliens' motivation in the film, along with a few audience members. Given the talent involved this should have been better.
And that was it. All in all a great day that scheduling and organisation threatened to ruin. Hopefully it comes back better next year.