Empire Big Screen Day has arrived
Today I'm attending Empire's BIG SCREEN event at the o2 in London.  I'm looking forward to preview screenings of some of the summer's hottest films, as well as interviews and discussions with producers, directors, set designers, renowned reviewers and journalists and a wide range of other film experts.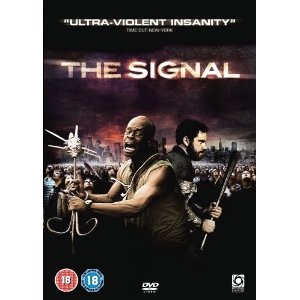 First up this morning is showcase sessions with 20th Century Fox and Universal Pictures.  I absolutely love getting to the cinema in time for the trailers so watching two hours of extended footage and previews is a dream.  I understand that 20th Century Fox will be bringing along special footage from Titanic 3D.  It'll certainly be fascinating to see what James Cameron has done.
As a 3D sceptic I doubt it will change my mind but I will be attending The Big 3D Debate.  I always like to have my preconceptions challenged so I'll go with as open a mind as possible.
Later in the day we're going to be treated to advance preview specials screenings of next week's big films Rise of the Planet of the Apes and Cowboys and Aliens.  The Planet of the Apes series has never particularly interested me but then I saw the trailer for this installemnt and that just blew me away.  Even before I get into the cinema I'm already rooting for the Apes.  I really am a bleeding-heart animal nut.
I don't know what to expect from Cowboys and Aliens.  It's not had brilliant reviews but it's an interesting concept to mix the two genres and Daniel Craig makes a bloody sexy cowboy.  Besides – any film called Cowboys and Aliens has to be good fun. That's what I'm hoping anyway.
There's so much on at BIG SCREEN today that it was really tough to pick what I wanted to attend.  I'm a bit disappointed to be missing The Devil's Double preview, the session on how to be a film journalist and the screening of The Signal, an independent horror about a telecommunications broadcast which drives people insane (or BBM as it's been known in English cities this week).  Still there's only so much that can be done in a day and I'm excited by my plans.
I'll be tweeting throughout the day and if I can get a quick blogpost up at some point I will.  Expect full reviews of Rise of the Planet of the Apes and Cowboys and Aliens next week.
It's going to be a long day but I'm sure it's going to be a good one too.
Sadly I can't make the rest of the weekend but there's lots happening on Saturday and Sunday. There's an advance preview of Norwegian horror/comedy Troll Hunter which looks fab, a conversation with disaster movie god Roland Emmerich, secret screenings and the UK premiere of Fright Night hosted by the gorgeous David Tennant.