It's holiday time and for many of us and that means a chance to relax by a pool or on a beach with a cold drink and a book or ten! Unless you've bought hundreds of books that you've never got around to reading (yep, I've done that) then you'll need to buy some to take with you.
If you read a lot then chances are you read quite fast too, so that means you need to buy (and carry in your luggage) even more books. I quite like the chance to have a 'spree' and usually negotiate an appropriate budget – around £50.
The rules are simple – you've got £50 to spend on your holiday reads, what would you buy? I've had a look around Amazon
and worked out my ideal £50 spree. Please let me know which holiday books you'd buy with £50 in the comments.
1.  Glitz by Louise Bagshawe
Escapism, glamour and sheer nonsense is a big part of summer reading and a Louise Bagshawe novel is perfect for that.  Impossibly beautiful and improbably rich heroines have affairs with unfeasibly handsome and roguish heroes.  The perfect author to take your mind off the nightmare of air travel.
2.  Dangerous Lady by Martina Cole
I love a good crime thriller and Martina Cole is one of my favourite authors.  Cole knows the sordid nature of crime in the East End of London and her books are infused with a real sense of authenticity.  Dangerous Lady is Cole's first novel and introduces her work brilliantly.  I guarantee once you've read one you'll want to read more.
3.  One Day by David Nicholls
It's always good to have a bit of knowledge of those books which capture the zeitgeist and readers' imaginations and are going to be spoken about for a few years.  One Day is one of those novels and with the film version being released later in the summer there's no better time to make sure you can join those conversations about Emma and Dexter with real authority.

4. It's Not What You Think by Chris Evans
I never seem to get round to reading biographies and autobiographies much during the year so the summer is the perfect time to catch up.  Nothing too serious, heavy or political though – that's for winter.  Few people have had as colourful a life as Chris Evans so his is a good choice for celebrity autobiography on the beach.
5.  The Book Thief by Markus Zusak
I know I said that serious or classic books were to be avoided in the reading but there's got to be the odd exception to a rule.  The Book Thief tells the story of a young girl in Nazi Germany without beating you over the head with the horror of the situation.  Sometimes there are books that we need to make time to read – this is one of those books.
6.  My Sister's Keeper by Jodi Picoult
Middle-class angst is a bit of a growing genre these days and Jodi Picoult undoubtedly rules the roost with 20 books so far and surely more to come.  Her novels make you think about uncomfortable moral issues such as euthanasia, date rape, child abuse and in the case of My Sister's Keeper – the ethics of donor children.  Picoult raises awkward topics but is never judgmental and is always eminently readable.
7.  The Girl with the Dragon Tattoo by Stieg Larsson
Another thriller with some shocking passages and another one of those books that everyone seems to be reading.  That's no reason not to put it in your holiday pile though as it's a gripping story.  The next two parts of the trilogy will have to be bought in another spree though, and it's always good to have an excuse to buy more books.
8.  Tales Of The City by Armistead Maupin
We all have a list of books that we've heard great reviews of but don't know much about or don't think it's our kind of thing.  I bet Tales of the City is on quite a lot of those lists.  The summer holiday is a perfect time to rectify that and make sure you meet Michael Tolliver, Mary-Ann Singleton and the brilliant Mrs Madrigal.
9.  The Righteous Men by Sam Bourne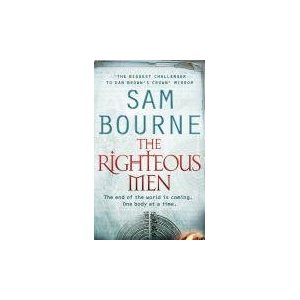 Sam Bourne (the pseudonym of journalist Jonathan Freedland) has been described by one British newspaper as "the biggest challenger to Dan Brown's crown" and that tells you all you need to know about his books.  Gripping page-turners but guff, total guff – perfect for reading with a rum cocktail in hand.
10. The Sparrow by Mary Doria Russell
I've never been a big science fiction fan.  It's not that I dislike the genre, it's just that I never seem to consider it when buying books.  The summer holiday is the perfect time to try something new and this highly acclaimed debut novel seems a good introduction to the genre.
So that's my holiday reads £50 spree. And I even have 24p left over.
What would you buy? Have a look over at Amazon
fill up a hypothetical cart (or even a not-so-hypothetical one) and let me know in the comments below what's on your list and why.