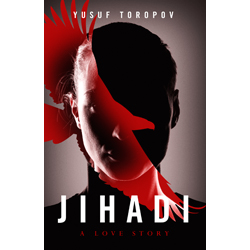 I'm really excited to be publishing my first ever cover reveal today.  I've never done one before and before I started book blogging, I didn't realise how excited book-lovers got about getting a preview of a book cover. It's fabulous to see in advance a cover and blurb for an upcoming book.  I'm delighted to be doing the cover reveal for one of Orenda Book's fabulous sounding 2016 releases.
Coming in February next year is Jihadi: A Love Story by Yusuf Toropov promises to be yet another intelligent thriller from the publisher of this year's The Abrupt Physics of Dying.  Here's the blurb from Orenda.
A former intelligence agent stands accused of terrorism, held without charge in a secret overseas prison. His memoir is in the hands of a brilliant but erratic psychologist who has an agenda of her own, and her annotations paint a much darker picture. As the story unravels, we are forced to assess the truth for ourselves, and decide not only what really happened on one fateful overseas assignment but who is the real terrorist.
Peopled by a diverse and unforgettable cast of characters, whose reliability as narrators is always questioned, and with a multi-layered plot heaving with unexpected and often shocking developments, Jihadi: A Love Story is an intelligent thriller that asks big questions. Complex, intriguing and intricately woven, this is an astonishing debut that explores the nature of good and evil alongside notions of nationalism, terrorism and fidelity, and, above all, the fragility of the human mind.
The cover is dark with a shocking flash of red which hints at danger and is really quite exciting.  The title is also really challenging – who would ever put the words Jihadi and Love Story together?
So – what do you think of the cover and the blurb? I'm excited by it and looking forward to February 2016 when the book is available.