Released: 2011
Director: George Clooney
Starring: Ryan Gosling, George Clooney, Philip Seymour Hoffman
Brilliant acting, weak story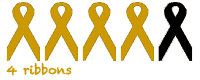 2011's star of the year has to be Ryan Gosling.  All of a sudden he's everywhere and getting lots of attention and love, not least from a number of movie bloggers and guys I speak to on Twitter.  I must admit that I don't feel the Gosling love as much as some others do.  I like him, he's handsome and talented but then so are lots of other young Hollywood hunks.  Was George Clooney's 4th directorial effort The Ides of March going to be the film that showed me the error of my ways and turned me into a fully-fledged Goslingite?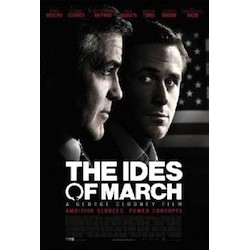 Stephen Meyers (Gosling) is a passionate young political and media strategist working on the campaign of Governor Mike Morris (Clooney) the frontrunner in the race for the Democratic presidential nomination.  The decisive primary is fast approaching and Meyers finds his loyalty to the campaign and to Morris being tested when he receives a job offer from the rival campaign and discovers that Morris isn't the ethical and principled leader that he initially thought.
Where The Ides of March really shines is in the performances.  This is a casting director's dream.  George Clooney, more than any other modern star, reminds me of my favourite actors from the classic Hollywood era.  He's handsome, charismatic and absolutely owns the screen whenever he appears.  He might not be the best actor in the cast but he is the one who shines the brightest.  I genuinely can't say who is the best actor – it's a toss-up between Philip Seymour Hoffman and Paul Giamatti as the rival campaign managers.  I also loved Marisa Tomei as a political journalist following the campaign.  It wasn't a big role but it reminded me yet again that Tomei is a great actress and that the persistent rumour that she won her Oscar by mistake is unfair and cruel.
But what about Gosling?  Have I been won over yet?  Well, almost.  As I mentioned earlier he is a good actor and he is certainly handsome but for me he still has a little way to go before I'm firmly in his camp.  He certainly can hold his own with the powerhouses with whom he shares the screen but he doesn't do more than that which he needs to do to become the massive star he is destined to be.  Having said that, I fully expect him to be nominated for the Best Actor Oscar next year, the role just begs for it.
The direction by Clooney is strong.  As seen in Good Night and Good Luck he is a very unselfish director, happy to step back and allow other actors to take the limelight rather than focusing on himself.  But he also manages to direct himself well and his performance as Morris is one of his best in a long time.
Sadly the acting and direction are much better than the story deserves.  It's really nothing special – it wouldn't even have made a decent episode of The West Wing and was more suited to a melodramatic TV movie of the week.  There's nothing new in the narrative, it all seemed a bit obvious.  Politics is a nasty business, campaign managers will play dirty in order to get their guy elected.  And guess what else – politicians aren't the nice guys they like to portray themselves as well – there you go, I'm glad I spent a tenner to learn that.  If the couple of dozen people in the cinema had given me a tenner each I could have told them lots about politics!
I enjoyed The Ides of March a lot, the film was definitely raised way above the ordinary by the strong performances and star power.
And I've still to be totally won over by Ryan Gosling.