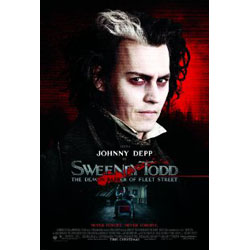 Released: 2007
Director: Tim Burton
Starring: Johnny Depp, Helena Bonham-Carter

Same old Burton and no great songs but still a good show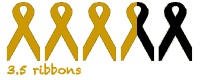 Earlier today I celebrated Stephen Sondheim's 83rd birthday by watching and reviewing West Side Story. A little later in the day and it seemed appropriate to go about as dark as possible with movie musicals and have a blood-splattered evening in the company of Johnny Depp and Helena Bonham-Carter in Tim Burton's realisation of Sondheim's Sweeney Todd – The Demon Barber of Fleet Street
.
Based on a 1979 stage musical which itself is based on a 1973 play this tells the story of a barber who returns to London fifteen years after being sentenced to transportation by the corrupt Judge Turpin. On his return he discovers his wife has poisoned herself and his daughter Johanna has been adopted by Turpin and vows bloody revenge on the judge and all of London. With his new piemaker partner Mrs Lovett, Sweeney Todd sets about dispatching the hirsute men of the city and recycling their bodies in Mrs Lovett's pies. While Sweeney Todd wreaks havoc, young sailor Anthony falls in love with the beautiful Johanna and plans to help her escape the clutches of the evil Turpin.
I bow down to nobody in my love of a good showtune but that's the biggest problem with Sweeney Todd and while there are songs and melodies that are pleasant enough to listen to while the film is playing there are only a couple that will stay for more than a couple of minutes after the credits have rolled. I'm writing this review only an hour or so after watching the film and can only remember Johanna and Not While You're Around from the soundtrack. Compare that with West Side Story where virtually every song is a classic and Sweeney Todd doesn't come out quite so well. That's not to say the songs aren't enjoyable, they are great fun but they just don't enter into the consciousness.
As you would expect from a Burton film it's beautifully made and has all the dark, gothic glamour that makes a Burton film look so good. Depp and Bonham-Carter work wonderfully well together and have great rapport and while neither has a brilliant voice both performed their singing roles relatively well. It was interesting to see though that Helena Bonham-Carter merely reprised her role as Mrs Lovett when playing Madame Thernadier in Les Miserables.
I am though getting a little bored of the whole Johnny Depp wide eyed, wild haired, Helena Bonham-Carter smudged eye make-up, Tim Burton gothic schtick. Is there any way it can be messed around with a little? Maybe set their next film on a Caribbean island? Maybe a romantic comedy in a setting where the sun shines and everyone is happy? And they all wear suits and have conservative haircuts?
As an antidote to the usual jazz hands musical Sweeney Todd: The Demon Barber of Fleet Street is fabulous. No-one would normally put singing and dancing and blood-stained cameras together and it's always nice to subvert conventions. As a musical, Sweeney Todd is nothing spectacular. As a Tim Burton film it's really just more of the same.