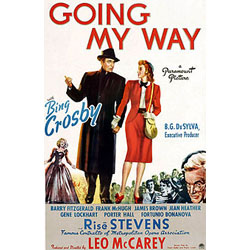 Released: 1944
Director: Leo McCarey
Starring: Bing Crosby, Barry Fitzgerald

Heart-warming and charming, one of Bing's best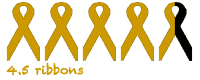 As I wrote in my review of Argo I'm way behind on my viewing of films which have won the Academy Award for Best Picture. I am working on that though and making my way through the films from the 20s until today. I did try to watch The French Connection a week or so back but I turned off through boredom.  I was starting to get disillusioned so went back in time from the 70s to the 40s and 1944's charming comedy musical Going My Way
.
Bing Crosby plays Father Chuck O'Malley, a young (-ish, Crosby was 41 when the film was made) Catholic priest who is sent into a failing parish in order to resurrect the church's fortunes. Sitting parish priest is cantankerous Father Fitzgibbon who is horrified by the arrival of a young upstart, who he fears is going to change his beloved parish beyond recognition. As O'Malley deals with a variety of issues including creating a choir comprised of a group of local troublemakers and counselling a runaway teenager, he and Fitzgibbon begin to bond.
It's hard to find much to dislike in Going My Way, it's one of the most good-natured, kind-hearted films I've ever seen. There's not many films you'll watch where the Catholic clergy are actually the good guys. No abuse, no cruelty – just the kind, twinkly-eyed priests that I remember from my childhood. Bing Crosby is great as O'Malley, I'm a big fan of his and this is one of his best performances. It's warm and funny and Crosby well deserved his Oscar for Best Actor.
It's not a one-man show though and Barry Fitzgerald as the cantankerous Father Fitzgibbon is outstanding. Uniquely Fitzgerald was nominated in both the Best Actor and Best Supporting Actor categories at the 17th Academy Awards, winning the award in the latter competition. Despite his reluctance to accept O'Malley and his grumpy nature Fitzgibbon is still a hugely sympathetic character. Anyone who can remain dry-eyed in Fitzgibbon's final scene has got a harder heart than me. And I'm apparently well known for my cynicism….
The story is fairly thin with sub-plots such the creation of the boys' choir and the secret marriage of two of the congregation acting as filler. That doesn't matter, each of the small stories helps to move forward the overall narrative and character study without taxing the brain too much. Of course there had to be plenty of opportunity for Bing to croon at us and there's also some great songs in Going My Way including Swing on a Star. I seem to remember that being one of my favourites as a child and I've been singing it internally since watching the film.
Going My Way is a heartwarming, amiable film from a more innocent age, I'm not sure it could ever work if made these days. I imagine the kids would be violent gang members, the priests would be predators and the teenage runaway would be 13 rather than 18. Thankfully we have the 69 year old original to know and love.