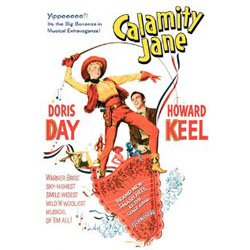 Released: 1953
Director: David Butler
Starring: Doris Day, Howard Keel

One of the greatest film musicals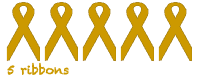 If there's ever been a time in my life that I needed cheering up it's been the past few days. My beautiful cat was run over and killed and I've been a total wreck since then. I've not been able to do any work, going out of the house was hard and even eating took a back seat. I've started to come out the other side now. I'm still very upset but it's not quite as all-encompassing as it has been. At times when I'm so sad I always turn to musicals to help me. This time round it was Les Miserables that I watched – the perfect film for anyone who wants to stop crying obviously. Normally though it's older musicals that I reach for like Seven Brides for Seven Brothers, Singin' in the Rain and the one that I had watched just last week, Calamity Jane
.
Musical favourites Doris Day and Howard Keel come together as real-life characters from the Wild West – Martha Jane Canary (the titular Calamity Jane) and Wild Bill Hicock. The story, despite being based on real people living in the real town of Deadwood, is entirely fictitious. Day's Calamity Jane travels to Chicago to secure the services of famous singer Adelaid Adams, she mistakenly brings home maid Katie Brown who is looking for adventure. Romantic entanglements and an ugly duckling story follow, accompanied by some great songs by Sammy Fain and Paul Francis Webster.
Let's deal with the shockingly bad sexism first – Calamity lives in a ramshackle old cabin which is unfit for human habitation. As soon as Katie arrives the two women get on with cleaning the house – all it needs is a "woman's touch" according to the song. A woman's touch seemingly includes the cleaning, making curtains and having an amazingly green finger which can make roses bloom from dead just with a quick watering. Calamity is dismissed as something of a joke by the men of Deadwood until she washes her face, puts ribbons in her hair and wears a pretty dress. I'm ashamed to admit that while I see the sexism and tut quietly about it, I really don't care that much. It's a film made in a different time about a different time.
The two star performances are nicely done – Keel and Day have a lovely chemistry and spark off each other well, particularly in their "I can do without you" number. Howard Keel is a favourite of mine and he's fabulously dreamy here. Allyn McLerie is good as Katie Brown but is let down by her love-interest Philip Carey as Lieutenant Danny Gilmartin. In singing scenes he looks thoroughly out of his depth – and scared by it all.
The songs are eminently sing-able and Calamity's big love theme Secret Love won the Academy Award for Best Original Song at the 1953 Academy Awards.
Calamity Jane was Warner Brothers' response to the successful Annie Gets Your Gun, another Wild West Cowgirl musical starring Howard Keel. To my money Calamity Jane is the far superior film – although as far as I know Lewis Hamilton, Fernando Alonso and Mika Hakkinen have never performed any songs from Calamity Jane.
This is one of my favourite musicals, and films, of all time. Anytime I'm feeling low this is one of the four or five films that I will turn to bring me back to normality. I just hope it's a long time before I feel as low as I do this week…