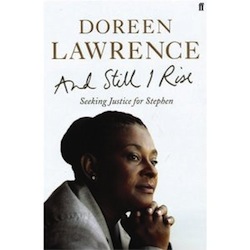 Published: 2007
Author: Doreen Lawrence

A moving account of a mother's search for justice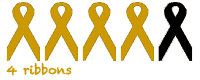 I didn't realise when I started to read Doreen Lawrence's autobiography a couple of weeks ago that the trial of two men accused of her son's murder would be starting this month, making the events described in And Still I Rise
seem very recent and frighteningly relevant once again.
There can be few people in the UK who don't remember the brutal murder of 18 year old Stephen Lawrence in April 1993.  The black student was waiting with his friend for a bus home after a night out when they were attacked by a group of five young white men.  The two boys ran but Stephen was fatally stabbed.  The police investigation was characterised by incompetence and to date no-one has been convicted of Stephen's murder.  His parents Doreen and Neville fought for recognition that their son's death was a racist attack and that the search for justice was hampered by corruption and racism.  The ensuing inquiry led to massive changes in the way that race relations in Britain are approached, both by individuals and institutions.  What has sometimes been lost in all the news stories is that the murder of Stephen Lawrence was first and foremost a tragedy for one family and a mother who lost her son.
I've met and worked with Doreen Lawrence a few times (mostly in the production of the video below) and I've always found her to be a caring, warm and generous woman who nonetheless was always sad.  I was interested to know more about how Stephen's murder had affected the entire family.
The book begins with the words "Two lives ended one chilly April night … one was the life of my eldest son … the second life that ended was the life I thought was mine.  Since my son Stephen was killed with such arrogance and contempt I've had a different life, one that I can hardly recognise as my own."  Doreen starts her story by describing her life before her son's death – her difficult childhood in Jamaica, her move to England, education and marriage.  It was a perfect life by any means but I imagine that it was regarded by everyone as a pretty normal one.  There was nothing that could have possibly prepared someone for the sudden glare of public life.
The majority of the book is, as you would expect, dominated by the aftermath of Stephen's murder both in the confusing days immediately following the attack and the years ahead which saw the investigation condemned, British institutions called institutionally racist and a failed private prosecution against the men widely believed to be responsible.  If, like me, you've followed the case over the years there's probably not much new information in And Still I Rise but even so I found myself learning more about the relationship of certain police officers with suspects' families.  Information which stunned me and makes me now wonder if the original accusation of incompetence faced by the Metropolitan Police was actually a best case scenario.
To be frank though, and this may reflect badly on me, I was more interested in the personal aspects of the story.  How the family coped with the dreadful situation with which they were faced.  The breakdown of the Lawrence's marriage seems sadly inevitable as the couple seemed unable to help each other with their grief.  The entire book is heartbreaking but the passage which saddened me most was the revelation that Doreen was known to family and friends by the nickname Joy.  Not now though, her life has been damaged so much that she isn't even called by her familiar name anymore.  I was also horrified by the small incidents of racism in everyday situations such as a shopping trip.  Most of us probably don't face verbal or physical attacks in our daily life because of our ethnicity, sexual orientation or religion.  This book really brings home the human impact of such events.
And Still I Rise is not an easy book to read.  I found myself putting it down a few times to compose myself and prepare for the events which I knew were about to be described.  It's worth reading though and should act as a rallying call for us all to challenge discrimination and exclusion whenever we see it happening.