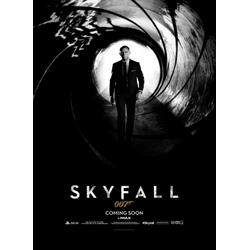 I'm a big fan of all things Bond and Daniel Craig is rivalling Sean Connery as my favourite actor in the role.  I'm very excited about the forthcoming film Skyfall which is also starring Javier Bardem, Ralph Fiennes and the wonderful Dame Judi Dench.  Little is known about the plot, other than facts about M's past coming to light which tests Bond's loyalty.
The teaser poster was released today and it does nothing to shed light on the storyline.  It's a classy monochrome (with gold) image of Bond striding in front of the iconic gun barrel.  I like the image a lot and am waiting with bated breath for the first trailer which will be on the 007 website next Monday morning.
What do you think of the poster? Are you looking forward to Bond 23? Let me know in the comments.