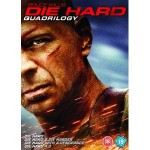 Rumours about a fifth installment in the Die Hard
franchise have been whizzing around for a while. This week it seems that Max Payne director John Moore is the latest favourite to helm the new chapter which is apparently taking place in Russia. Another rumour from Total Film is that Adam Buxton who directed Attack the Block is also in the frame.
I love Die Hard – it's one of my favourite films of all time, but this just sounds a little Mission to Moscow for my liking.  Maybe it's time for Bruce to retire gracefully as everyone's number one NYPD detective?