He's the most powerful man in the world, makes the decisions that will affect us all (no matter which country we live in), has his finger on the nuclear button and is often the target of assassination plots.  He is called upon to save the world on a regular basis and is hounded by the press.  He is the President of the United States.  It's time to recognise some of the best representations of the Commander-in-Chief that we've seen on the big screen over the past few years: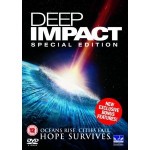 1.         Tom Beck – Deep Impact
While my favourite movie about a giant asteroid hitting the earth is undoubtedly Armageddon, Deep Impact was the film with the more impressive story and plot development (which made it a duller viewing experience).  Morgan Freeman played Tom Beck, the first Black President, who was faced with an apocalypse on his watch.  There's few actors out there who have the gravitas of Freeman and he played the role of a man struggling to make the necessary tough decisions and condemn millions of his countrymen to death very well indeed.  Freeman's acting aside, I still prefer Armageddon.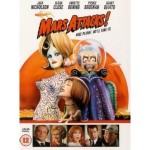 2.         James Dale – Mars Attacks!
If there's anyone we wouldn't want leading the free world in the event of a crisis it's Jack Nicholson.  He never seems to play characters who come across as entirely stable, yet in 1996's ensemble comedy Mars Attacks it is Nicholson who plays the President.  If there was ever a situation where we needed the insanity of The Joker to challenge the aliens it was this one, sadly we get a man who would prefer negotiation and ends up being killed by the invaders.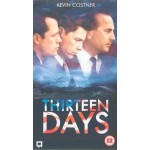 3.         John F. Kennedy – Thirteen Days
It almost feels like cheating to include a real-life President in this list, particularly such a beloved and iconic figure as Kennedy but when I was considering movies with great presidential portrayals this Cuban Missile crisis drama sprang immediately to mind.  Kenny O'Donnell (played by Kevin Costner in his last really good film) is the main character in Thirteen Days rather than Kennedy but the President's strength, determination and willingness to go against the wishes of his military chiefs are all brilliantly portrayed by Bruce Greenwood.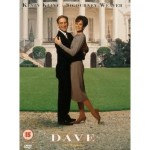 4.         Dave Kovac – Dave
And we're firmly back in the realms of fiction with this entry.  Dave Kovac isn't actually the President, but a lookalike who is drafted in to cover for President Bill Mitchell who is having an extra-marital affair.  When the real President suffers a severe stroke Dave is persuaded to continue the charade.  This is a charming comedy about political shenanigans and the impact that one good man can have on the murky world of Washington DC.  Kevin Kline is on top-form as both the hapless Dave and the nasty Mitchell.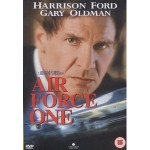 5.         James Marshall – Air Force One
When all is said and done we don't care if our US Presidents have diplomatic skills, a strong sense of political duty or a desire to make the world a better place.  What we really want from POTUS is that he can kick a terrorist's backside right off his plane.  Thankfully Wolfgang Petersen realised that and gave us James Marshall (played by Harrison Ford).  Marshall was a Medal of Honor recipient who wasn't going to take an escape route or stand idly by while Russian bad guys hijack the plane.  He took control of the situation himself in this brilliant action adventure.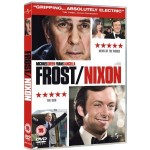 6.         Richard Nixon – Frost/Nixon
Another real-life entry and one which may come as something as a surprise to some people, after all Richard Nixon is one of the biggest political bad guys of all time.  This isn't a list of great politicians this is a list of great portrayals of presidents.  Frank Langella's portrayal of the former President is magnificent and his spars with David Frost (Michael Sheen) in a series of television interviews are electrifying to watch.  I'm sorry I missed this on the stage, it would have been a sight to behold.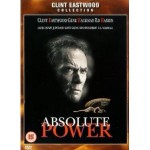 7.         Alan Richmond – Absolute Power
Not all fictional Presidents have been good guys willing to risk their lives to save their families/country/the world.  Some, like Alan Richmond in Clint Eastwood's Absolute Power, are out and out baddies.  Jewel thief Luther Whitney (Eastwood) is robbing the house of a billionaire when he witnesses President Richmond having sex with the homeowner's wife.  Richmond tries to strangle the young woman and when she retaliates his Secret Service bodyguards kill her.  Gene Hackman is great here as the evil and sadistic President who leaves you yearning for the innocent days of Richard Nixon and a bit of light larceny.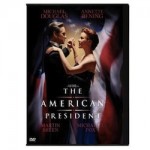 8.  Andrew Shepherd – The American President
When I mentioned to my mum that I was writing this post she jumped in immediately "Michael Douglas in that film about the American President, oh what's it called?"  Funnily enough it's The American President and she was right, Andrew Shepherd is absolutely one of the greatest screen presidents of all time.  Written by the brilliant Aaron Sorkin, this film almost serves as a pilot episode for Sorkin's TV series The West Wing.  Shepherd is a widower embarking on his first romance since entering the White House, much to the delight of his opponents.  He's a great character and his final speech is so rousing that I would be tempted to hop on a plane and go and work on his re-election campaign if he was real.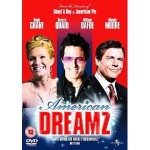 9. Joseph Staton – American Dreamz
American Dreamz isn't a brilliant film but Dennis Quaid's portrayal of the intellectually challenged POTUS who is easily manipulated by his scheming Chief of Staff is great.  To keep the President occupied and away from policy decisions the Chief of Staff arranges for him to be a special guest judge on American Dreamz, a talent show in the mould of American Idol hosted by vain Englishman Martin Tweed.  Islamist terrorists see the perfect opportunity to target the President when one of their number is selected as a finalist.  The film is too self-consciously satirical, taking aim at too many targets and not landing a blow on any of them but it is quite good fun and Quaid has a whale of a time as Staton.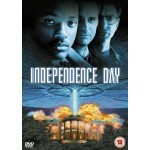 10. Thomas Whitmore – Independence Day
I love Independence Day, it's one of my favourite films and one which I can always rely on to cheer me up.  It is utterly preposterous and the characters are ludicrous but I watch it faithfully on a regular basis and love every minute of it.  Whitmore is the handsome, youthful President whose popularity ratings are on the slide.  Thankfully for his re-election chances the world is invaded by nasty aliens who want to destroy the planet and move on.  Whitmore leads the aerial attack on the aliens and gives a rousing speech on the morning of July 4th which inspires everyone to face their fears and fight the bad guys.  I fell a little bit for Bill Pullman in this film and I just hope that when the little green men finally attack we've got a fighter pilot in the White House who can protect us all.
Honourable Mention. Josiah Bartlet – The West Wing
I know Jed Bartlet isn't a movie President but he is arguably the greatest fictional President ever.  Aaron Sorkin's TV series The West Wing was one of the best tv programmes of all time, partly due to the performance of Martin Sheen as Bartlet.  I doubt that any movie President could ever be quite as satisfying to watch and inspire political action in the way that Bartlet can. And he knows how to smack-down homophobic talk show hosts, what a leader!
Who are your favourite fictional leaders?  Have I missed anyone obvious?  Let me know in the comments.