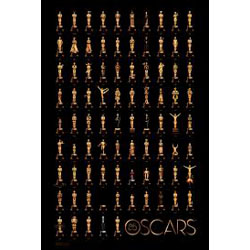 It's Oscars Day and I'm excited. I love the Oscars, I love the good and the bad outfits. I love the gushing speeches and the losers proving why they lost by not being able to act happy for the winners. On the other hand I can't stand the moaning minnies who complain that it's all back-slapping and aren't there more important things in the world to be concerned about. Well yes there are, but funnily enough I can care about poverty, social injustice, animal welfare and still enjoy being snarky about someone starlet's inappropriately over the top dress. And lots of industries have their own end of year award ceremonies, it's just that the Debt Collection Awards hosted by Ruby Wax aren't as much fun as the Oscars. So, I'll continue to enjoy the Oscars for as long as my Sky Movies subscription allows.
I'll be running a live blog from 11.30pm (GMT) which will cover both the red carpet and the ceremony itself, and the Sky coverage. Will we see another disaster like last year and Natalia Tena? We can but hope…. For now though here are my predictions for the big winners. These are totally non scientific and based on gut feeling only.
Best Picture
Best Bet – Argo
I've not seen this yet but the tide is undoubtedly in favour of Ben Affleck's story of a bizarre CIA operation to extract American diplomats from Iran.
Outside Chance – Lincoln
As I said in my review this was always going to be a film which appealed to the Academy given its subject matter. I'm not expecting it to win, but wouldn't be shocked either.
Best Actor
Best Bet – Daniel Day-Lewis
I think this one of only two awards which is virtually a cast-iron certainty this year. His performance as Abraham Lincoln was stunning.
Outside Chance – Anyone else
It would be a big shock if anyone else took the trophy but if I had to pick one of the other nominees it would probably be Hugh Jackman. He was great as Jean Valjean and most other years would have won the trophy.
Best Actress
Best Bet – Jennifer Lawrence
I'm a big fan of Jennifer Lawrence and she is owning this awards season for her turn in Silver Linings Playbook. Her failure to clinch the BAFTA was a big shock but I don't see it being repeated tonight.
Outside Chance – Emmanuelle Riva
The nominee with the most realistic chance of denying Jennifer Lawrence is also the oldest ever nominee for the Best Actress award (up against the youngest ever nominee for the award in Quvenzhané Wallis). It's possible but I don't see it.
Best Supporting Actor
Best Bet – Christoph Waltz
This is one of two very, very hard categories to call. All five actors are brilliant and all five are Oscar winners. My call for Waltz is based on nothing more than sheer gut instinct.
Outside Chance – Tommy Lee Jones
Jones performance as abolitionist Thaddeus Stevens is a real highlight of Lincoln and if the film is going to be denied the big prize then this and best actor may serve as decent compensation.
Best Supporting Actress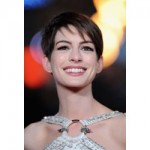 Best Bet – Anne Hathaway
I said it in my BAFTA live blog and I say it again, if Anne Hathaway doesn't win this one I'll run around Frimley naked singing I Dreamed A Dream. Good people of Frimley you have been warned.
Outside Chance – Amy Adams
It's not going to be anyone else but I adore Amy Adams, I think she's the sweetest, most endearing screen presence in Hollywood today so I hope it would be her.
Director
Best Bet – Steven Spielberg
I'm at a loss with this one. I'm really quite confident that Argo is going to win Best Picture and Ben Affleck has swept all of the Directing prizes but stupidly hasn't even been nominated here. I'm going with Spielberg on the basis that confused Academy voters will go with the familiar.
Outside Chance – David O Russell
Silver Linings Playbook is getting a lot of love. I didn't actually see it because it looked to me like a rom-com with a distasteful edge (I'm still not sure that I was entirely wrong). Maybe the love will be rewarded with an Oscar for Russell.
As I said these predictions are based on nothing but gut instinct but some are bound to be right. We'll see later on tonight which ones I should have put money on and which ones I got totally and utterly wrong.