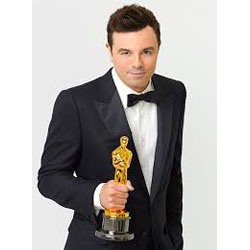 There are many thankless tasks in this world but as Seth MacFarlane is probably now realising, being the host of the Academy Awards is possibly the most public way to make yourself a worldwide figure of hatred literally overnight. His reviews are not great and some of the Twitter vitriol has been appalling. Seriously, you'd think the guy stood on the stage of the Dolby Theatre and stoned puppies the bad press he's been getting. but let's be honest.. he really wasn't that bad – and there were a couple of worse performances on the night that people seem to be glossing over.
I'm not particularly a fan of Seth MacFarlane. I don't like Family Guy much, if I'm honest I find it pretty obnoxious. On the other hand I do like it when he turns up at the Proms in his tux, looks cute, sings showtunes very well and makes me swoon a little.
That's the guy I wanted to show up at the Oscars rather than the mean-spirited Family Guy creator. And for the most part that is what we got. Sure there were a couple of barbed jibes and ill-judged jokes which didn't go down too well in the room, but by and large this wasn't the disaster that many people would have us believe.
I said at the start of my live blog that I love the Oscars and yay boo sucks to the nay-sayers. I stand by that, but what I don't like about it is when the audience takes themselves a little too seriously. The boob song was a perfect example. Was it bad taste to have a song about actresses showing their breasts? Undoubtedly. But please… the actresses he picked on aren't struggling teenagers desperate to break into the movies. They and their lawyers make calculated decisions, they get paid per square inch of bosom that they show. A nipple is an extra million on the pay cheque, an exposed breast is an Oscar nomination. And if they don't want to do it there's always body double who will. So yes, the song was both ill-judged and misogynistic but I'll save my outrage for the fifteen year old starting out in her career rather than the Oscar winner in the room feigning outrage who has made a lot of money by flashing her wares multiple times.
And while I'm pffting this was a room full of people who make their money in an industry which glorifies excessive violence, sex, nudity, bad language, adultery, drug-taking and all manner of bad behaviour getting prissy about a John Wilkes Booth joke. Really? Nice comeback quip though by MacFarlane who asked if it was "too soon" for as line about Lincoln's assassin.
That's not to say all of MacFarlane's jokes worked or deserve defence. His line about it being the time of the evening where one of Javier Bardem, Penelope Cruz or Salma Hayek shows up and no-one can understand them was nothing more than cheap racism and his attack on Jean Dujardin's low profile since his Oscar win last year was the kind of uncalled for nastiness that I feared.
The ceremony itself was its usual mixture of great moments, surprises, fab speeches and flabbiness. The much trailed Bond tribute was a huge disappointment – mediocre Bond girl Halle Berry, a few clips and one song, although Oscar winner Adele absolutely knocked it out of the park with her performance of Skyfall later in the show.
The worst presentation moment didn't belong to Seth MacFarlane but was a toss-up between Paul Rudd and Melissa McCarthy for a cringe inducing skit which fell flat and Daniel Radcliffe and Kristen Stewart, the most mismatched pairing since James Franco and Anne Hathaway. I've seen drugged up prostitutes on street corners who look healthier and more enthusiastic about life than Stewart, poor Daniel Radcliffe was clearly desperate to inject a little oomph into their segment but couldn't escape the horror that is Stewart.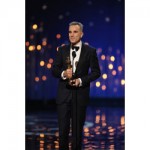 If the worse moment didn't belong to Seth MacFarlane nor unfortunately did the best joke – that went to Best Actor Daniel Day-Lewis for his quip about doing a role swap with Meryl Streep (who no-one actually saw open the envelope, if I was Denzel Washington, Hugh Jackman or Ed Miliband I'd be demanding a judge-led inquiry). Best speech goes to Ben Affleck for his wonderfully manic and excited response to Argo winning Best Picture. Some consolation for the ridiculous snub in the Best Director category.
I was a little baffled by the In Memoriam section, beautifully introduced by George Clooney and wonderfully put together but to finish it with whoops and cheers for Barbra Streisand seemed a little distasteful.
For the most part though it was a good Oscars and Seth MacFarlane did a reasonable job, he wasn't brilliant – he wasn't Billy Crystal, he wasn't even Tina Fey and Amy Poehler at the Golden Globes. Nor though was he James Franco, a bored self-indulgent brat. He was enthusiastic, tried hard and gave it his all. It didn't always work and I doubt he'll be asked back but I've seen worse. Next year though, please please please could we finally have Neil Patrick Harris?