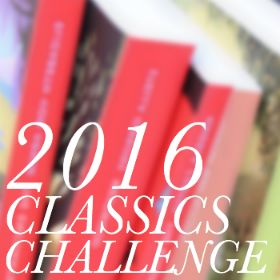 Happy New Year.
I've decided to take part in the 2016 Classics Challenge being run by Stacey at The Pretty Books. The idea of the challenge is to read a "classic" book every month and share thoughts on blogs, social media etc. I'm always saying I have to read more classics, I have huge gaps in my knowledge of books that others have (or at least claim to have) read and loved. So this is the perfect opportunity to have a focus on some books that I'm sure I should have read before.
I particularly like this challenge as there's some great questions to be considered when discussing the books:
WHEN I Discovered This Classic
WHY I Chose to Read It
WHAT Makes It A Classic
WHAT I Thought of This Classic
WILL It Stay A Classic
WHO I'd Recommend It To
At the moment I still have no idea what twelve books I'm going to choose, whether they'll all be books I haven't read before or if I'll include some favourites such as To Kill A Mockingbird
. I'm going to try different genres and at the moment I'm considering trying to include the following categories:
Classic romance
Classic horror
Classic science fiction
Classic feminist
Classic crime
Classic Scottish fiction
Classic children's
Classic dystopian
Books that I'm considering are Rebecca
, Heart of Darkness
, Laidlaw
, Flowers For Algernon
, Danny Champion of the World
, Little Women
and Brave New World
. But if I'm honest I'm still a bit up in the air about it all and will be keeping an eye on the hashtag to get some ideas. Come back before the end of the month and follow me on Twitter to keep up to date with what's happening with the challenge.