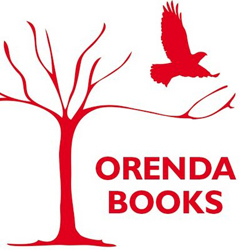 This month I'm going to have a bit of a spotlight on a fabulous new British publisher, Orenda Books.  I'll be reviewing and giving away The Defenceless by Kati Hiekkapelto, and reviewing How to Be Brave by Louise Beech.  I'm starting this month with an interview with Karen Sullivan, the woman behind the books.
Tell us a little bit about Orenda Books and some of your first releases?
Orenda Books is a new independent publishing company, specialising in literary fiction with a heavy emphasis on crime/thrillers. About half of the list will be in translation. There are some anomalies – the nice thing about running your own company is that you can publish what you like, what resonates! We are publishing six titles this year. First up, in March, was Paul E. Hardisty's The Abrupt Physics of Dying, a fabulous, page-turning, action-packed but oh-so-beautifully written thriller set in Yemen, and David F. Ross's The Last Days of Disco
, a heartwarming and absolutely hilarious novel set in 1980s Ayrshire, where two lads attempt to set up a mobile disco business, stepping on the toes of the local mobster in the process! It's driven by music, history, politics and some of the most fantastic dialogue and characters you'll ever come across and the reviews have been amazing!
We published Ragnar Jonasson's debut Snowblind
in June, a wonderfully atmospheric, claustrophobic crime thriller translated by Quentin Bates, and the first in the Dark Iceland series. Also in June was We Shall Inherit the Wind
, a Norwegian crime thriller by one of the fathers of Nordic Noir, Gunnar Staalesen. Translated by Don Bartlett (of Jo Nesbo and Knausgaard fame), it's a masterclass in Chandleresque crime-writing!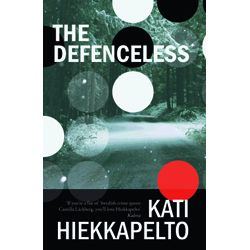 In September, we have Kati Hiekkapelto's The Defenceless
, the second in the Anna Fekete series and the sequel to the Petrona-shortlisted The Hummingbird. This book won best Finnish Crime Novel of 2014, and it's absolutely brilliant! Unputdownable! It's been translated by David Hackston, and early reviews have been tremendous. Our final title for this year is Louise Beech's gorgeous debut How To Be Brave, which weaves together the contemporary story of a mother reconnecting with her seriously ill daughter through the medium of story telling, with a true story from the past. The author's grandfather was aboard a ship in the South Atlantic in WW2, which was subsequently bombed. He and 13 others made it to a lifeboat and it was 50 days until they were rescued, with only two survivors. It's evocative, beautifully written and heart-wrenching.
We'll be ebooking a number of 2016 titles in December of this year, including Michael Stanley's A Death in the Family, Amanda Jennings' In Her Wake, Michael Grothaus' Epiphany Jones, Ragnar Jonasson's Nightblind (the sequel to Snowblind), Paul E. Hardisty's The Evolution of Fear (the sequel to The Abrupt Physics of Dying) and more!
Why did you decide to set up your own independent publishing company?
I was working at another independent publishing company, whose list was chopped in a restructuring programme led by shareholders. I'd been doing almost everything myself, so it was a natural step to move forward and continue on my own terms and with my own venture. It has always been a dream to have my own publishing company and things came together as if by magic, with some fine authors instantly agreeing to come aboard and a huge amount of support from the online and bookselling communities. It's obviously been a little hairy at times, and I can't tell you how much I've had to learn on the job, but it has also been extraordinarily satisfying and rewarding and I have loved every moment of it.
What inspired the name 'Orenda'?

The name Orenda is a 'First Nations' Canadian (i.e., indigenous population word) that can be loosely translated as 'the mystical power that drives human accomplishment'. When I decided to start this company I came up with a load of Latin names and my husband said: No, choose a name that means something to you and this one came straight to my mind. The provenance is from a tribe that settled in an area of Ontario (north of Toronto) where I have spent almost every summer of my life, and it was also partly inspired by Canadian author Joseph Boyden's The Orenda, which was one of the best books I've read to date.
So it has a great deal of meaning to me!
What is the role of independent publishers when the industry is so dominated by huge companies?
That's a good question. I think there is always a place for independents, who do not have the same massive overheads as the big conglomerates and may be more willing to take risks on on unknown authors or books in niche markets, such as translated fiction. Many authors enjoy working with smaller companies because of the personal relationship that develops across all aspects of the publishing process, too.
Can small independents really compete on an equal footing with publishers who have million pound budgets?
I think good books will always sell, and there are many readers who actively seek out books from smaller companies, who may have something new and different to offer. Obviously we can't afford things like posters on the sides of buses or massive advances, but indies publish some great books and there is no reason why we can't sell as many books as the bigger ones. With the advent and growth of social media, it is easier to achieve 'discoverability', and as long as readers know that the books are there, they have as much chance of becoming bestsellers. Obviously the bigger companies can absorb higher discounts offered to the trade more easily, and negotiate deals with supermarkets that might be impossible for the little guys, but without massive overheads, we do have some flexibility. A network of good international distributors helps, too!
How do you go about creating a buzz about a new book with your limited resources?
Probably the most important medium is social media, where we can use Twitter, Facebook, Instagram, etc., to draw attention to the books and post reviews, etc. Ultimately it's all about discoverability and building a community of readers who will actively seek out our books, and it is fairly easy to achieve that with social media. Blog tours are a brilliant way to build momentum at publication time, too! We spend more on marketing than anything else, bringing over authors for festivals, events and little tours. Kati Hiekkapelto and Gunnar Staalesen will be 'on the road' for a week this September, and will join Ragnar Jonasson at Bloody Scotland; all of the Orenda crime authors took part at CrimeFest and we had two at Newcastle Noir in May. Gunnar and Ragnar will be at Edinburgh Book Festival and there is lots planned for 2016! Engaging with the public is an important part of increasing the profile of the authors and their books, and all of our authors are great at that! Apart from that, we send out around 100 books to the media and work, like any other publisher, to get print reviews and radio/TV coverage. It's difficult for everyone with fewer review pages in the press, but we have as good a chance as any to attract attention with a good press release and some fantastic books.
Are big bookshops open to independent publishers?
Definitely! They are in the business of selling great books, and if we have them, they'll buy them! I find that they are very cautious at the outset, but once we have generated a bit of a buzz via the press and social media, plus some events and strong ebook sales, they climb on board and re-order. The discounts can be high, but it is probably worth it to have the books in the major chains. We sell a lot to independent bookshops, too, who are VERY keen to support and host events, and they are absolutely brilliant at hand-selling, once they get behind a book!
Are online companies like Amazon a pro or a con?
Probably a mix! Ebook sales are very strong via Amazon, and that is an important revenue stream and way of increasing the discoverability factor. We can play with prices to attract readers and when we get a daily deal or a title in a sale, it draws attention to the book in a way that we could never afford to do from a marketing perspective. For example, Snowblind hit number one in the Kindle Charts in May and stayed there for over a week, which meant a lot of new readers and that all-important word-of-mouth effect! That said, Amazon demands high discounts and it can be difficult to persuade them to order in quantity. We have a good distributor who negotiates on our behalf. I know smaller companies have had a lot of problems with stock, but we've so far been lucky. I think it's important to take advantage of every promotion they have on offer, as a marketing tool more than anything else. We actively push readers to the independents and the chains, though. There is nothing like browsing in a bookshop and getting tailored recommendations, something Amazon can never really offer.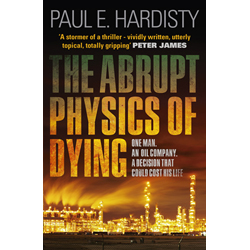 What have been the big success stories of your first year?
It's been unbelievable! All of the books have been successful in very different ways, and it is has been a surprise and a delight to see them doing so well and achieving so much! Orenda was the bestselling publisher at both Newcastle Noir and CrimeFest, and Snowblind has been reprinted twice, hitting number one in the Kindle Charts internationally! The Abrupt Physics of Dying has been shortlisted for the prestigious CWA John Creasey (New Blood) Dagger, and The Last Days of Disco has been sold to Random House in Germany and received extraordinary critical attention (including huge support from John Niven!). We Shall Inherit the Wind has almost sold out of its first print run and ebooks sales are great, with fabulous pre-orders in the USA. The Defenceless won best Finnish Crime Novel of 2014 just after we commissioned it, and the prequel, The Hummingbird, was shortlisted for the Petrona, too. An excellent start! Louise Beech's gorgeous How To Be Brave has attracted a great deal of interest from film companies and is off to a flying start in ebook! Five titles have been audio booked, and there is international interest in all of them. It couldn't be more exciting!
What great books do we have to look forward to in the next year?
All of my authors have a second book in the pipeline – Louise Beech's The Mountain in My Shoe will be published in the Autumn, as will the sequel to The Defenceless by Kati Hiekkapelto. We are publishing Gunnar Staalesen's Where Roses Never Die – his very best Varg Veum thriller to date, highly acclaimed internationally – and The Evolution of Fear, the sequel to The Abrupt Physics of Dying, by Paul E. Hardisty. David F. Ross returns with The Rise and Fall of the Miraculous Vespas, another extraordinarily brilliant novel from this debut author, and we'll be publishing Nightblind AND another Dark Iceland title by Ragnar Jonasson! New titles include a VERY dark crime cum comedy thriller by debut author Michael Grothaus, Epiphany Jones, a beautiful Norwegian 'Rebecca' thriller by Agnes Ravatn (translated by Rosie Hedger), called The Bird Tribunal, Matt Johnson's page-turning thriller Wicked Game, Yusuf Toporov's Homeland-esque Jihadi: A Love Story, a stunning debut with a unique format that is guaranteed to attract a lot of attention, and the next two books in the incredible Inspector Kubu series by Michael Stanley, set in Botswana. A highlight is also Amanda Jenning's In Her Wake, a dark, beautifully written thriller centring on the abduction of a child and the impact it has on everyone around it. I've got another few books in the pipeline, too, so 2016 will be a very exciting year for Orenda Books. Hand on heart, these are some of the best books I've ever read! It's a joy to publish them! I haven't even announced many of these books, so this is news!
Thank you Karen for taking the time to answer my questions and give us a little insight into your work and some exciting news about forthcoming releases.