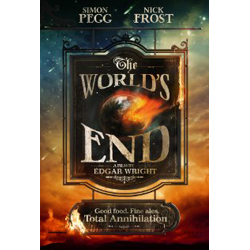 Released: 2013
Director: Edgar Wright
Starring: Simon Pegg, Nick Frost

Not quite the classic I was hoping for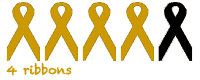 There are some films you can watch over and over again. The ones that you know most of the dialogue of, that you laugh at the jokes a minute before they are delivered on screen and you watch on TV every time they are shown, despite owning them on DVD. For me these films include the first two installments in the Three Flavours Cornetto trilogy Shaun of the Dead
and Hot Fuzz
. It's no surprise then that I have been eagerly anticipating the final part of the triumvirate the apocalypse comedy The World's End.
As with the first two films The World's End is written by Simon Pegg and Edgar Wright, directed by Wright and stars Pegg and Nick Frost. This time the duo are joined by Martin Freeman, Eddie Marsan, Rosamund Pike and Paddy Considine. Pegg plays Gary King, an aimless man-child yearning for the glory days of his teenage years. He persuades his old school friends to join him in their hometown of Newton Haven for one last attempt at the Golden Mile – a 12 bar pub crawl ending at the eponymous World's End. Their return home is fraught with unresolved tension between Gary and Andrew (Frost) and the fact that Newton Haven has been taken over by evil, blue blood spewing robots.
To say that I was disappointed with The World's End would be a bit of an exaggeration but I can't say that it has immediately elevated itself in my mind to the dizzy heights of its predecessors. There's much to love about this film but there's also much to feel disappointed in. Simon Pegg's characters have never been the most likeable – Shaun was a bit of a loser and Nicholas Angel was a bit of an insufferable know it all but both were still fairly sympathetic. Gary King has no redeeming qualities, he's the kind of annoying pillock you'd cross the street to avoid. There's also an excruciating exposition scene explaining exactly why there are robots in Newton Haven, just 10 dull minutes of having everything explained to the audience.
Thankfully the pros outweigh the cons. As always from this team there's a real sense of fun and some really big laughs. The fight scenes are brilliantly choreographed and are both very funny and satisfyingly violent. The additions to the cast were great – particularly the always reliable Eddie Marsan. It would have been good to see Rosamund Pike have a little more to do with her role, but it was a huge step up from her bland performance in Jack Reacher.
I adored the soundtrack, it was a fabulous throwback to the best of the 90s with Blur, Suede, Kylie and The Stone Roses. For me the inclusion of both The Beautiful South and The Housemartins was a highlight – you can never go wrong with a bit of Paul Heaton. I also enjoyed cameo-spotting and picking out cast members who had previously appeared in the series. I don't want to spoil anything but would be interested if anyone else thought the group leader at the beginning of the film was the promised "secret cameo".
I know I'll end up buying and watching The World's End but it hasn't struck me yet as the classic that the first two films are. Hopefully it will grow on me.