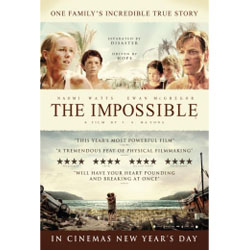 Released: 2013
Director: Juan Antonio Bayona
Starring: Naomi Watts, Ewan McGregor, Tom Holland

A heart-stopping emotion filled story which brings the Asian tsunami close to home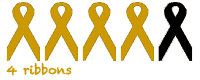 I'm a news junkie, whenever something even vaguely interesting happens I am hooked on BBC News online, Sky News and Twitter. I have to know what's happening. But it took a few days for the Tsunami on Boxing Day 2004 to get into my consciousness. It must have been because it was Christmas but I think it took me about a week to fully grasp the enormity of what was happening in South-East Asia. We now know that an earthquake off the west coast of Sumatra triggered a series of tsunamis along the coasts of Indonesia, Sri Lanka, India, Thailand, the Maldives and parts of Africa. Between 230,000 and 280,000 people from approximately 50 different countries were killed in the disaster. The economic and environmental impact is still being measured and won't be truly known for decades.
As with every major historical event the tsunami was always going to inspire works of art and literature. Documentaries and at least one TV miniseries have already been made, however The Impossible is the first major studio film to focus on the experiences of survivors of the disaster.
Naomi Watts and Ewan McGregor play Maria and Henry Bennett, a happily married middle-class couple with three children who are spending Christmas in Thailand. Their perfect holiday is destroyed when the tsunami hits and the family is ripped apart. Maria and oldest son Lucas are swept in one way while Henry and the youngest boys Thomas and Samuel are swept another. The film initially follows Maria and Lucas's journey to find safety and medical attention and then Henry's desperate attempts to bring his family together.
The moment the tsunami hits is heart-stopping and the choice to have silence and a black screen for a minute or so after is bold and effective. This was a crucial scene for director Juan Antonio Bayona. Over-play it and it could have felt exploitative and distasteful, under-play it and there would have been no impact. He pitched it just right and gave us a pounding 10 minute sequence that (I imagine) really conveyed the horror of being caught up in the tsunami.
The cast are all very good, particularly Tom Holland as Lucas. He starts the holiday as a bit of a brat, almost a stereotypical young teenage boy but becomes a real hero during the course of the film. He portrays the anguish, the fear and the childlike nature of his character very well. Naomi Watts has been rightly praised for her performance as Maria and deserves her Golden Globe and Academy Award nominations. As always Ewan McGregor is more than decent, but this film belongs to Watts and Holland – McGregor is very much in a supporting role here.
There are a couple of moments that feel a bit forced – a conversation between Henry and Maria around the pool, when a group of refugees come together in a shelter and almost have a group hug and a series of coincidences near the end of the film.  These are more than balanced out by the many emotional moments that had me in tears from before the wave even struck.
There's been some criticism of the film for focusing on the experiences of a white western family rather than the indigenous population. I can understand that to some extent, but I think we have to accept that a Western audience (for the most part and I accept this is a sweeping statement) want to hear a Western story. Maybe the success of The Impossible will make it more likely that the stories of Indonesians or Thai or Sri Lankan survivors will be told. I do wonder though why a film made about a Spanish family (the Alvaraz-Belons), with a Spanish director and Spanish money had an English family as its protagonists – why not Spanish?
I'm sure there will continue to be controversy around The Impossible for a while. Some people think it's too soon, others think it's too white. The truth is though that it's a moving, well made and finely acted film that brings home the horror of the tsunami in the best way possible – through the experiences of one family that the audience can identify with.