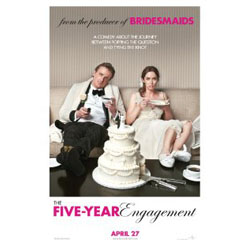 Released: 2012
Director: Nicholas Stoller
Starring: Jason Segel, Emily Blunt

A touch too long but still a fun watch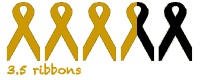 There seems to be a bit of a trend in romantic comedies these days for a slightly harder edged feel. No longer are they entirely soft and fluffy – we see inside the bedrooms rather than coy morning-after images; people swear (and not in that funny Hugh Grant way) and most shockingly of all, it isn't always Happily Ever After. Romantic comedies in the 2010s are looking more realistic than stories of prostitutes and chambermaids living out their days with handsome multi-millionaires. The stars aren't all drop dead gorgeous and sometimes watching films there's even a small hope that we mere mortals could see ourselves in a romance with the characters. I Give It A Year is a prime example of this new, tougher romantic comedy and to an extent so too is last year's The Five-Year Engagement
starring Jason Segel and Emily Blunt.
Tom and Violet are madly in love and get engaged exactly one year after first meeting. Their plans for a fairytale wedding are interrupted and postponed as a result of the marriage of family and friends, job changes and a move from San Francisco to Michigan. As time passes Tom and Violet start to wonder if they are actually right for each other and whether or not the wedding should go ahead.
There's a lot of love in this film – mostly the performances of Jason Segel and Emily Blunt. Both are immensely likeable and their chemistry is fabulous, I'm a big fan of Jason Segel – he is one of the most consistently watchable actors making comedies today. Emily Blunt is also great and manages to be a likeable female lead in a romantic comedy – something that's more unusual than you would imagine. Her Princess Diana look is scarily good and will be making producers of the forthcoming Naomi Watts biopic wonder if they cast the wrong actress.
The hurdles that Tom and Violet face are all too common and all completely believable. There's nothing contrived or outlandish here, just life getting in the way. There are also plenty of good jokes and it easily passes the Kermode 6 laugh test (ie to be a successful comedy a film must elicit at least six laughs).
Unfortunately, there's also a number of elements not to like. There is nothing here that isn't entirely guessable from the very first moment of the film. The middle is undoubtedly saggy and at just over 2 hours it's a good fifteen or twenty minutes too long. Tom's crazy hunter subplot is entirely un-necessary and the film would lose nothing from its absence.
I did enjoy The Five-Year Engagement. I like both Jason Segel and Emily Blunt quite a lot, I just wish the engagement had only lasted three years and the film 90 minutes.