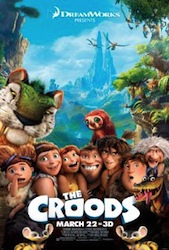 Released: 2013
Director: Kirk De Micco, Chris Sanders
Starring: Nicolas Cage, Emma Stone, Ryan Reynolds

A decent animation – but it's no classic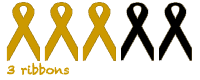 Earlier this week I pondered on whether Brave or The Pirates! In An Adventure With Scientists was more deserving of the Oscar for Best Animated Feature and landed on the opinion that both were great films and both would have been worthy winners. The Academy is seems though is fixated on Pixar and it's a safe bet that when there is a Pixar film in the mix it will win the big prize, no matter what the merits of the nominees. The only studio which can reliably challenge Pixar is Dreamworks whose Shrek beat Monsters Inc. to the top spot in 2001. Next year I imagine we'll be seeing Pixar's Monsters University in the running. And yet again there's a potential Dreamworks spoiler in the mix, caveman comedy The Croods.
It is a time of change in the prehistoric era. The Neanderthals are dying out. Animals, malaria and even the common cold are killing off the cavemen and only the Crood family have survived. Father Grug keeps the clan safe by ensuring that everyone adheres to the motto "Always be afraid" and refusing to leave the cave for extended periods. While most of the family are happy to abide by Grug's rules, teenage daughter Eep rebels and meets the handsome, intelligent Guy who shows her that there is life beyond the cave.
This is a real mixed-bag of a film and I'm not sure that it entirely works. All of the elements of a great family animation are here – feisty daughter, parental conflict, strange creatures and a dollop of danger – but there's also something lacking. It all feels too much by the numbers and despite the impressive animation and fun creatures, there's actually nothing new here at all.
Watching it so soon after Brave didn't help my enjoyment of it in the slightest. Here we have another red-headed girl climbing rocks and rebelling against her parents, but whereas Merida managed to be a strong, independent girl Eep is lost until a boy comes along to rescue her. Merida rips her clothing to make it more practical, Eep is reduced to a squealing jelly by the appearance of a pair of Ugg-like boots. Perhaps if I hadn't just seen Brave I wouldn't have noticed these comparisons quite so clearly but I was left wondering if we had actually moved on from the days of the caveman.
There are some laughs to be had – Belt, Guy's pet creature, has a fabulous "dun-dun-dun" which he breaks out at every opportunity and there's always fun in mother-in-law jokes. The strange creatures will enchant children and there's at least one moment of genuine peril to frighten the little ones. The voice cast work well particularly Nicolas Cage as Grug, Emma Stone as Eep and Ryan Reynolds as Guy. There are also some very nice plot points – the domestication of dogs and cats as pets being a favourite of mine.
The Croods is a decent enough family film which kids should enjoy a lot – if it's still showing for the forthcoming half term then it's certainly worth a visit. It isn't a classic though and in the likely battle to come, unless something goes badly wrong at Pixar, I don't see it topping Monsters University.