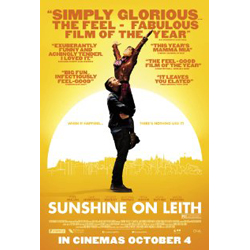 Released: 2013
Director: Dexter Fletcher
Starring: Peter Mullan, George Mackay, Kevin Guthrie

A complete joy from start to glorious finish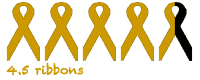 I think it's somewhere in Scots' law that if you are a Scot, especially if you no longer live in the home country, you must love The Proclaimers. You don't have to know many of their songs or even think that they are great singers, but you must be eager at any opportunity to burst into 500 miles or Letter from America. More than anything else, this is the mark of a real Scot. Given the infectious nature of the music, it was only a matter of time before a jukebox musical based on the work of the Reid brothers emerged.
Based on a stage musical of the same name originally produced by Dundee Rep, Sunshine On Leith [DVD]
h directed by Dexter Fletcher is an absolutely joyous film which will soften the hardest of hearts and bring a wee proud tear to the eye of any Scot.
Ally and Davy are two recently demobbed soldiers and best mates who return home to Edinburgh following a tour of duty in Afghanistan. Ally rekindles his romance with Davy's sister Liz while Davy finds love with Liz's best friend Yvonne. As both relationships progress, Davy's parents Rab and Jean find the celebrations of their silver wedding anniversary threatened by a decades old secret. The characters sing and dance their way through this fairly standard romcom storyline.
Within the first five minutes of watching Sunshine on Leith a big, stupid grin appeared on my face and it didn't leave for the duration of the film. Yes, the songs are a bit shoehorned in at places and I do wonder how much of the script was written to fit the songs – a character decides to travel, where to and how will they communicate with family and friends? By Letter from America obviously.
Every member of the cast plays their part to perfection, but I particularly enjoyed George MacKay and Kevin Guthrie as Davy and Ally. The singing isn't the best but every member of the cast throws themselves into it with fabulous enthusiasm which is, like the songs terribly infectious. Craig and Charlie Reid will admit that they are not themselves the greatest singers in the world, so would perfect voices have kept the spirit of the songs intact? I doubt it. Sometimes though the singing really hits the mark – Peter Mullan's gruff Oh Jean tells a story of a stoic Scotsman not used to expressing his feelings.
The soundtrack is, of course, wonderful and includes great songs including the title track Sunshine on Leith (one of my Desert Island Discs), Letter From America, On My Way and a delightful flashmob rendition of 500 Miles which will make all but the stoniest of hearts fly.
Sunshine on Leith hasn't got the most original story in the world, for a musical the singing can be a bit ropey and there's an element of the songs leading the story rather than the other way around but I loved this film. It's one of the happiest films I've seen in a long time and I know that I'll happily watch it over and over again. Can't recommend it highly enough.