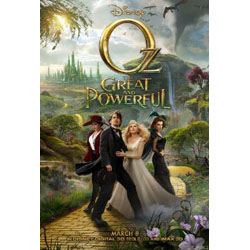 Released: 2013
Director: Sam Raimi
Starring: James Franco, Rachel Weisz, Mila Kunis, Michelle Williams

All show and no heart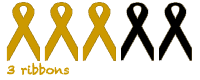 The Wizard Of Oz
holds a special place in my heart. It isn't my favourite film or even my favourite musical but it is the film which first showed me the magic of cinema. It was the early 80s and we had just got our very first VHS recorder and naturally we had to buy a couple of videos to go with it. Back then it was quite an investment. No £3.99 section in your local Tesco, buying a film on video was actually quite an expense. I seem to remember it costing about £23.99. 30 years on and I wouldn't pay that for the latest release but back in the day (yes I am 147) it was pay up or no films. I was in love – the pretty girl sang, there was a cute dog and evil witch but the most spectacular thing of all was that it went from black and white to colour. It was like magic and from then on I loved what cinema (and home cinema) could do and the stories that it could tell.
Disney's last foray into the Land of Oz was the 1985 film Return to Oz which I vaguely remember going to see at the cinema – it made so little impact on me that I've not seen it since the age of 9. Given my history with Oz it's no surprise that I was a little nervous about the newly released prequel Oz The Great and Powerful.
James Franco plays Oscar Diggs, a Kansas sideshow magician and conman who performs under the name Oz The Great and Powerful. A twister takes Oscar in a hot air balloon to the land of Oz where good witch Theodora (Mila Kunis) tells him that he is the wizard whose arrival has been foretold and who can free the land from the Wicked Witch. Seduced by the treasure promised to him Oz agrees to search out and kill the woman he is told is the threat to the land.
I liked Oz The Great and Powerful, but I didn't love it. The story was decent enough, although as an origin tale I prefer Wicked. The acting was fairly good but nothing to write home about. There was a real mismatch between Rachel Weisz as Evanora and Franco who hammed up their roles for all they are worth and Kunis and Michelle Williams (Glinda) who seemed to be taking things quite seriously. The more tongue in cheek portrayals were the ones which worked best.
The cinematography and production values were stunning but this may also be the film's biggest downfall. So much time and effort was put into creating a spectacular looking film that director Sam Raimi forgot about the heart and soul of it. Much like Oscar Diggs himself the film is all show but with little substance. I'm sure there is a good heart in there but it takes a lot more than some flying 3D spears and eye-popping colours to make a film that will stay with people for decades.
Box-office receipts have been healthy and it is currently the top-grossing film of the year (although with big hitters like Star Trek Into Darkness, Iron Man 3 and Man of Steel all out soon I expect Oz to be toppled from the top spot quite quickly). A sequel is already in the pipeline so while Oz the Great and Powerful may not have enough magic to keep me happy it's certainly done the business for executives at Disney. And that's really all that matters these days….