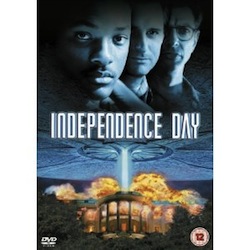 Released: 1996
Director: Roland Emmerich
Starring: Will Smith, Bill Pullman, Jeff Goldblum

The Americans save the world – again….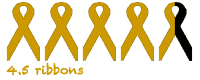 My husband has been away on a training course for a few days and I've been left home alone.  I always have such civilised plans – good food, classic films and reading serious books.  It never works.  I usually sit up until 2 in the morning eating Super Noodles and watching mindless blockbusters.  This time has been no different and against all my best intentions I ended up on the sofa with a packet of Wotsits watching Independence Day
for the millionth time.  In my list of the top ten summer blockbusters Independence Day vied with Armageddon for the title of ultimate summer movie.  It is always a tight race but ID4 won out yet again.
The story is simple in the extreme.  On July 2nd alien crafts arrive in the skies over major cities across the world.  By July 4th these cities have been destroyed, millions are dead and it's time for humans to fight back.  Thankfully the world has inspirational leadership in the form of US President Thomas Whitmore (Bill Pullman), US fighter pilot Steven Hiller (Will Smith) and US technical genius/TV repairman David Levinson (Jeff Goldblum).  And it's US Independence Day.  What were the odds that it would be a bunch of Americans to the rescue?
I know I sound cynical and anti-American, but I'm really not.  I love films where the Yanks come to the rescue.  There's a confidence about them (the films) that make me want to hop over the Pond and sign up to become a fully-fledged US citizen.  They have all the fun.
I love the cast of Independence Day, particularly the three lead actors.  Each is very different and they all play their roles very well.  The differences work in the context of the story and there's an enjoyable chemistry which plays to each actor's strengths.  Will Smith is brash, arrogant and heroic and Bill Pullman is charismatic and the kind of leader we'd want in such a crisis.  As for Jeff Goldblum, as usual he exudes intelligence and a geeky sexiness.  I'm sure that the handsome hero of the adventure is supposed to be Will Smith, but I've always found the other two to be much more attractive.
The supporting cast is decent.  I particularly enjoyed Judd Hirsch as David's father Julius, Randy Quaid as drunken cropduster Russell Casse and Margaret Colin as Constance Spano, David's ex-wife and the President's press secretary.  I first saw Margaret Colin in a little-known 80s detective show called Leg Work and then in Three Men and A Baby but she doesn't seem to have hit the very top which is unfortunate as she is very gifted.
The action scenes are explosive.  Literally.  There can be few films out there with quite so many buildings blowing up, cars flying across the screen and aerial battles.  Independence Day is unashamedly an out and out action movie with nothing intelligent to say about the world.  It simply sets out to thrill and excite and does that very well.  Fifteen years on and the scene where the aliens first fire their weapons, destroying well-known sites in Los Angeles, New York and Washington DC is still brilliant.  The special effects are as compelling today as they were in 1996.
The cheese factor in this movie is high.  If I scored in cheese wedges rather than ribbons I would be awarding 5 out of 5 Brie slices. Some moments make even me with my high cheese threshold snort in derision – the pilot saluting wildly after Whitmore's rousing speech, the Israeli and Palestinian airmen standing proudly together, the fact that David's computer is compatible with alien technology and the most ridiculous scene of all – a dog outrunning a fireball in a tunnel.
I shouldn't moan though.  Independence Day is one of the greatest blockbuster films of all time.  I know that whenever I'm left alone I'll end up under a duvet eating a bowl of ice cream and watching one of the most fun movies I own.