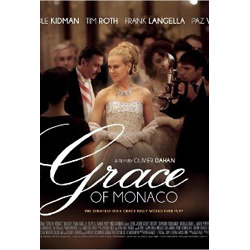 Released: 2014
Director: Olivier Dahan
Starring: Nicole Kidman, Tim Roth, Frank Langella

Rubbish, tedious rubbish
A couple of years back I took part in a mad attempt to visit all 50 countries in Europe in just one year. We didn't quite manage it and I'm still tempted to try it again. One of the 25 countries I did visit in the year was principality of Monaco. It was an amazing day trip and to look down on the yachts, lose some money at the Casino Monte Carlo and see some of the iconic Grand Prix stages such as the Swimming Pool. The most moving moment for me though was a visit to St Nicholas Cathedral and seeing the memorials to Princess Grace and Prince Rainier. I'm a huge Grace Kelly fan and I found myself getting quite emotional. That's not the word, however, I would use when describing my feelings when watching the 2014 biopic Grace Of Monaco
. Incredulous, frustrated and possibly even a little nauseated are much more accurate.
In 1962 when Monaco faces a threat from France over taxation, Alfred Hitchcock approaches Princess Grace to ask her to return to Hollywood and star in his latest film Marnie. Grace is frustrated and lonely, she has become little more than a provincial housewife and has a strained relationship with her husband Rainier. As Grace considers her options against the backdrop of the political turmoil, it becomes clear that someone in the Grimaldi inner circle is betraying the couple.
I'm sighing just thinking about this film. It's just really rubbish. I've seen some reviews that attack Nicole Kidman's acting and that's slightly unfair. Her performance wasn't bad, in fact none of the acting was actually that bad it just wasn't very good. What was bad, very very bad, was the script. It was toe-curlingly bad. I can't believe that none of the very good, very experienced actors who are in this film looked at the script and thought that it would be too embarrassing to say the words out loud. One line that made me laugh and cry at the same time was "Antoinette, we don't talk state affairs over lunch".
The characterisation of Grace also baffled me. Are we really expected to believe that a woman from a very rich Philadelphia family, a woman who mastered Hollywood, becoming one of the biggest stars in the world in just five years could be so cowed by some society matrons? Would a woman who diligently worked on her voice to improve her career prospects really wait for six years before learning the language of the country of which she was now a Princess?
The direction was poor and some scenes were laughable. At one point a woman skulks through some undergrowth wearing a mac and black beret. I'm not sure but I think she might have been looking for "ze fallen Madonna with ze big boobies".
There's been lots of discussion about the historical accuracy of the film, does it truly reflect the marriage of Grace and Rainier or not? That's not a major problem for me as artistic license is always acceptable if it creates an enjoyable experience. It doesn't in this case.
I've been racking my brain to find something positive to say about Grace of Monaco. The acting isn't that bad and the costumes are fabulous. Other than that though the film is just a bit of a disappointing mess.