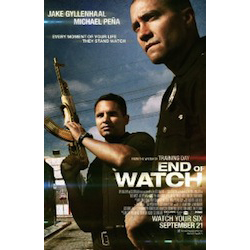 Released: 2012
Director: David Ayer
Starring: Jake Gyllenhaal, Michael Pena
A lot of Watch before an explosive End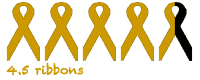 As with most people interested in film I do like to read or listen to reviews, I have a number of blogs that I read on a daily basis and there's some podcasts that I listen to religiously. There are plenty of reviewers whose opinions I respect a lot and others I tend to disagree with on a regular basis. One hard and fast rule I have though is that I always do my best to go into a screening with a completely blank mind, I try not to let the opinions of others influence me, even if I have created my own preconceptions. But when someone like William Friedkin, director of The French Connection, says that End of Watch "may be the best cop film ever", I sit up and take notice.  I went in with very high expectations of a film that really hadn't been on my radar until the last couple of weeks.
Jake Gyllenhaal (who also acted as Executive Producer) and Michael Peña are two young LAPD patrol officers in the tough South Central area where they are daily faced with the dangers of gangland violence and drug-running criminals. The publicity for End of Watch tells us that the film is about two young cops who are targeted for death after confiscating a small about of money and weapons from a cartel. While that's true, it's also misleading and if you go into the film waiting for this to happen you'll start to get frustrated. Better to go in expecting the story of the daily lives of Officers Taylor and Zavala and how their family lives intersect with the family that is their fellow police officers.
Writer/director David Ayer took the decision to tell much of the story from the point of view of the protagonists using police-car cameras, gang members' camcorders or the conveniently placed chest cameras that Officers Taylor and Zavala are wearing for Taylor's college project. Sometimes the technique worked and sometimes it was an irritation, I like my films to be sharp, nicely cut and in focus and that wasn't always the case here. When it did work however it was fantastic, creating real suspense, fear and tension.
If I'm sounding a little ambivalent towards End of Watch it's how I felt for a lot of the film. I was waiting for the promised targeting of Taylor and Zavala and it was taking a long time coming. I was enjoying what was happening – the relationship between Taylor and Zavala is brilliantly played and utterly believable. Both Gyllenhaal and Peña are excellent and are bound to be recognised with nominations at awards season. In fact I think Peña is a good bet for a Best Supporting Actor nod at the Oscars.
The supporting cast is good and while the love lives of Taylor and Zavala are explored – Zavala having married his high school sweetheart straight after graduation and Taylor looking to settle down after a string of short-lived affairs, this is really a two-hander.
The film's saving grace is the last fifteen minutes or so. It's absolutely electrifying and the action is scintillating. All of the fear and dread that has been building up explodes and I was desperate for a cushion to hide behind. Any ambivalence or frustrations I had about the film were blown away – literally – in that final sequence.
I'm not sure if I agree with Friedkin that End of Watch may be the best cop film ever, but it's the best in a very long time and is one of the best films of the year.
End of Watch screens at the BFI London Film Festival on 11th, 13th and 21st October and will go on general release across the UK on 23rd November.