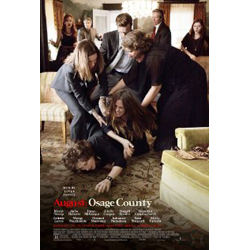 Released: 2013
Director: John Wells
Starring: Meryl Streep, Julia Roberts, Ewan McGregor

Tedious characters and over-acting make a low-rent melodama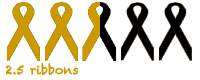 There's a very specific kind of acting that I can't stand. It's over the top, it's shouty, it's showy, it's very much aimed at getting awards. I refer to it as ACTING with all capital letters, when you speak about it you slip into a loud, plummy accent. ACTING darling, ACTING. Unfortunately that pretty much describes all of the performances in August: Osage County
.
Meryl Streep plays Violet Weston – the pill-popping, cancer-suffering, vindictive matriarch of the Weston clan. The family is brought together when their father, Beverly, disappears and is later found dead. Oldest daughter, Barbara (Julia Roberts) arrives with her estranged husband and grumpy teenage daughter; flighty youngest sister Karen turns up with her fiancé Steve and middle sister Ivy has a romantic secret which could tear the extended family apart. As the drama unfolds everyone shouts at everyone else. A lot.
Based on Tracy Letts's successful stage play this could have been a fabulously black comedy with bitingly nasty dialogue. Instead it's a dreary melodrama full of ACTING, shouting and swearing. The film lurches from one obnoxious, shouty set piece to the next with little respite.
It would be unfair to say that there are no redeeming features to the film. Some funny lines come through and there are some nice exchanges. I particularly liked the argument between Barbara and her husband (played by Ewan McGregor) over whether "forsook" or "forsaken" was correct – the line "Forsook you and the horse you rode in on" will stay with me for a while. The quieter moments (few and far between) also allowed some pathos and emotion to break through the screaming but there just weren't enough to balance out the hysteria.
Of course, if you're going to make a film where everyone ACTS then you could do worse than cast Meryl Streep in the lead role. She wears a wig and she ACTS loudly, so naturally she was nominated for an Oscar. I like Meryl Streep a lot, I think she's talented and anytime I've seen an interview she comes across as a nice lady who hasn't become a diva. She didn't deserve the Oscar nomination though and it's a bit of a shocker that she was nominated in the year that Emma Thompson missed out for her amazing performance in Saving Mr Banks. Julia Roberts is impressive as Barbara, especially in the quieter moments and Chris Cooper is the calm voice of reason as Violet's brother-in-law. Poor Benedict Cumberbatch looks baffled and unsure of what the hell he's doing in the midst of the chaos and I'm not entirely sure that it was just the character who was lost.
It's hard to like a film where you find the majority of characters obnoxious, the script hysterical, the acting style over-the-top and the direction pedestrian. If August: Osage County had been the low-cost melodrama of the week on Lifetime then it probably would have been relatively bearable, as a serious film with an A-list cast it was simply tedious.