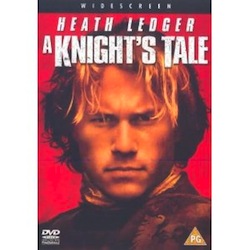 Released: 2001
Director: Brian Helgeland
Starring: Heath Ledger, Paul Bettany, Rufus Sewell
Fun action comedy set in the world of jousting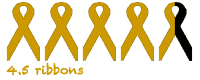 I remember how I felt when Heath Ledger's death was announced in January 2008.  I was numbed, shocked, saddened.  I knew straight away that cinema had lost one of its greatest young talents.  His greatest work will probably be recorded in history as The Dark Knight, for which he won a posthumous Oscar, but his appealing screen presence and talent was evident long before he became The Joker.
One of my favourite early Heath Ledger films is A Knight's Tale
, a joyous romp set in the world of Medieval Europe's jousting tournaments.
When his Master dies in the middle of a tournament, servant William Thatcher impersonates him and triumphantly completes the tournament.  Buoyed by his success, William adopts the name Sir Ulrich von Liechtenstein.  The noble background he invents is necessary to enter competition.  Supported by his friends Wat, Roland, Geoffrey Chaucer (yes, that Geoffrey Chaucer!) and Kate, a widowed blacksmith, William travels the French countryside competing in tournaments. Along the way he falls in love with the beautiful Lady Jocelyn and makes an enemy of the evil Count Adhemar.
Heath Ledger is endearing and charismatic as the peasant looking to 'change his stars'.  He is well supported by Mark Addy as Roland, Alan Tudyk as the bad-tempered Wat and Paul Bettany as Chaucer.  Bettany absolutely steals every scene he is in, particularly those where he performs his heraldic duties and introduces "Sir Ulrich" to the crowds (in the style of a modern boxing promoter).  Rufus Sewell is admirably campy and pantomime-villain-like as William's nemesis Count Adhemar,  I defy anyone not to boo him each time he appears. The only weak link in the cast is Shannyn Sossamon as Ledger's love interest Lady Jocelyn.  She is absolutely beautiful and it's easy to see why William would fall in love with her at first glance, but she's just too bland to be appealing for very long.  I was rooting for William to realise how annoying she was and dump her in favour of the feisty blacksmith Kate.
The success of A Knight's Tale lies in its unbridled joy.  It may be set in the 1380s but it has a very modern feel.  The crowds sing and clap in rhythm to Queen's We Will Rock You, tournaments are celebrated at feasts where the young nobles dance energetically to David Bowie music and the language is definitely more 21st than 14th Century.  One of the best lines in the film is Wat mocking Jocelyn with the line "It's a lance.  Helllloooooo".  The action scenes are well played and each joust has its own personality.  We move through the tournaments quickly and breathlessly, no long laborious journey from town to town.
The script by director Brian Helgeland is amusing and fun.  it's hard to believe this is the same man who wrote the tedious Robin Hood which was almost totally devoid of humour.
A Knight's Tale is a great film and one of the most enjoyable couple of hours you can spend in front of the screen, although once again it will make you mourn the loss of Heath Ledger and his phenomenal talent.