Published: 1982 – 1989
Author: Alan Moore
Illustrated by: David Lloyd
Fun – if you like being battered over the head with "messages"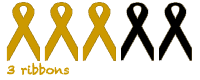 Is there anything worse than a right-wing government making huge cuts to services?  You wouldn't think so but there is – humourless lefties constantly telling us that said government will lead to tanks on the streets, repression of the people and the end of civilisation as we know it.  All of the warnings about the evils of the right are extreme in their hysteria and as such lose their impact.  And so it is with the graphic novel V for Vendetta
written by Alan Moore and illustrated by David Lloyd.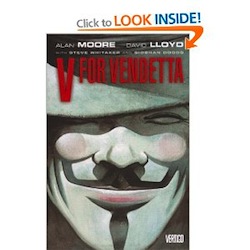 Written at the height of Thatcherism this story, originally a series of comics, envisions 1997 as a period of oppression and a fascist government.  The Labour Party wins power at the 1983 General Election and abolishes the country's nuclear capability.  As a result, Britain manages to escape the devastating nuclear war which destroys much of the world and creates climate chaos.  However Labour are subsequently defeated by a new political party – Norsefire – and a fascist regime is born.  A masked man named V engages in acts of terrorism against the state including destroying Parliament and the Old Bailey, his aim is to punish those who tortured him and to persuade the people to rise up and govern themselves.
V is a former inhabitant of a government concentration camp where ethnic minorities, gay men and lesbians, non-Christians and political opponents of Norsefire are incarcerated.  The parallels with Nazi Europe are stark including the emaciated appearance and shaven heads of inmates, striped clothing and medical experimentation.  Fascism has come to Britain and it taking exactly the same form as fascism has in the recent past.
To say I didn't enjoy V for Vendetta would be an exaggeration.  I just felt like I was being battered constantly with important "messages".  Everything meant something.  The Right-Wing – bad.  Nuclear weapons – bad.  Surveillance – bad.  Not that I necessarily agree or disagree with any of the messages but it was relentless.  There was no time to develop affinity for the characters or enjoy the exciting revolutionary storyline, we had to be educated in the writer's political thoughts throughout.  Frankly I began to find the preachy tone quite tedious after a few pages.
I also thought that there were too many characters.  Did we really need to follow the stories of the wives of party apparatchiks?  It became a little confusing trying to keep hold of all of the strands simultaneously.  This wasn't helped by the fact that most of the characters looked far too alike and the illustrations were (deliberately) very dark.  It wasn't a particularly pleasant reading experience and I was pretty glad when I reached the end.
The concept of V for Vendetta is a brilliant one, but it's more satisfyingly brought to life in the film adaptation than in the original graphic novel.  Runaways opened my eyes to how good comic books could be but after disappointing experiences with Buffy the Vampire Slayer and now V for Vendetta I'm back to square one in wondering if they are for me after all.