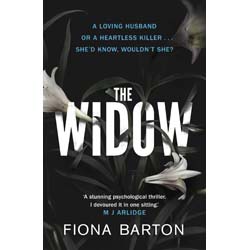 Published: 2016
Author: Fiona Barton

Couldn't put it down

Whenever I read a crime thriller, no matter how much I enjoy it, there's a little part of my mind which strays a bit. Of course I'm interested in the victim and the detectives but there's that bit which wants to know more about the wider set of characters. The loved ones of the deceased, the person who found the body, the family of the murderer. Fiona Barton's The Widow
was made for me – the main character being the widow (obviously) of a man suspected of being a child abductor/murderer.
Jean Taylor is a perfectly ordinary woman with a good job, nice house, and a loving husband. Her life isn't perfect, but it's decent and comfortable until her husband Glen is accused of a dreadful crime. Jean's settled life is thrown into turmoil and she becomes the woman at the side of the frame, standing by her husband's shoulder. Until her husband dies in an accident and everyone wants to know Jean's side of the story. But was she an innocent party? How much did she know about what her husband did or if he was even guilty of any crime?
I was gripped by The Widow from the very first page and read up a storm to find out what was going to happen next. There didn't seem to be anything spectacular about the book, I'm not sure if the writing was particularly ground-breaking but my god it was addictive. I wanted to know more about Glen's (alleged) crime and Jean's life.
Jean was a fascinating character, she seemed much older than her late thirties and that was discomfiting in the extreme. We can all imagine an old lady being blind to the activities of her husband because she doesn't understand new fangled technology, but Jean was younger than me. Could my contemporaries really be so naïve? That again led to chilling thoughts of possible conspiracy. The supporting characters of Bob the detective leading the investigation into the missing child and Kate the journalist desperate for Jean's story were also excellent and Barton has drawn on her years as journalist to create a representation of a media storm that seems fully believable.
The Widow is a book that is thoroughly chilling, it seems rooted firmly in reality and is all too plausible. It's absolutely compelling and an early contender for one of my books of the year.