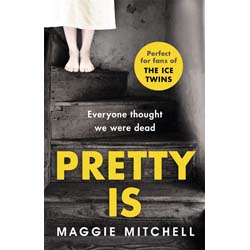 Published: 2015
Author: Maggie Mitchell

Fresh and well written, but one too many layers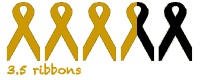 There's something visceral and terrifying about the thought of children being kidnapped. As a child I remember being scared of the bogeyman who would take me away from my family and the first news stories I remember are of girls my own age going missing from home. As grown-ups we know how trusting and vulnerable children are and we understand more of the darkness within adults and that scares us too. A number of recently released novels have focused on that fear including Maggie Mitchell's debut Pretty Is
which focuses on the story of two girls abducted and released seemingly unharmed when they are twelve.
Lois and Carly-May are kidnapped when they are young girls and held by their abductor (known only as Zed) for 6 weeks before being freed. They are now adults and have created new lives for themselves – Lois as an English professor and author and Carly-May as a moderately successful actress who has never quite hit the big time. They have had little contact in the years since their captivity but the women are thrown together when Carly-May is cast in the film version of Lois's fictionalised (and anonymous) re-telling of their story.
I was drawn into this story straight away and found it difficult to put the book down. The idea of a benevolent kidnapper was intriguing and made me question everyone's motives. Zed's for taking the girls with no seeming ill intent, Lois's for writing her account in a fictionalised way and Carly-May's for trying to become a star while hiding her identity and childhood experiences. I wanted to know more about Zed in particular and was both disappointed and quite pleased that he remained a mysterious figure. It made me question the veracity of the girls' tales and assertion that he had done nothing to harm them. I enjoyed the sense of ambiguity that the three-way relationship created. The issues that the women face as adults show that while they may have escaped any physical damage, the mental scars are fresh and this came through well in the novel.
Mitchell's writing is fresh and enjoyable, there's a beautiful literary quality to what could be just another psychological thriller and this gives Pretty Is real heft. The only aspect of the novel which I didn't enjoy was Lois's obsession and unhealthy relationship with one of her students, a young man who has discovered the truth about her past. I understood where it fitted into the narrative but it wasn't necessary and added an unwelcome layer which, for me, muddled the clarity of the story and diluted its strength.
I did enjoy Pretty Is, I liked the main characters and found the central concept intriguing and fresh but the power of the story was lost due to a overly complicated and unneeded plotting device.