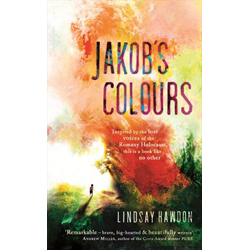 Published: 2015
Author: Lindsay Hawdon

An important and satisfying tale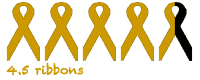 Regular readers will know that I have an especial interest in the Holocaust and genocide. I've been lucky enough to work in Holocaust remembrance and with Holocaust and genocide survivors. I'm not an expert by any means but even though I've moved on from that job I'm still fascinated by stories of the Holocaust and Nazi persecution. I'm particularly interested in stories that explore aspects of the time that are less well known. Lindsay Hawdon's debut novel Jakob's Colours
does exactly that with its story of a young Gypsy boy hiding from the Nazis.
The Porajmos (Devouring) was the Nazi genocide of Europe's Roma and Sinti people. The Nuremberg Laws, which removed citizenship rights from Germany's Jewish population also applied to Gypsies and many were imprisoned in concentration camps and murdered. Auschwitz-Birkenau had its own camp just for Gypsy prisoners. It is estimated that upwards of 200,000 European Gypsies lost their lives as a result of Nazi persecution but the figure could be far higher. Despite this devastation, the genocide of the Gypsies remains under-recognised. There are few representations in popular culture of the Porajmos – off the top of my head I can only think of And The Violins Stopped Playing as a novel which deals with the Gypsy experience. That alone makes Jakob's Colours an important addition to the field of Holocaust fiction.
Of course, it's not enough that a book have an important topic – it also has to have artistic merit. Thankfully this is a book which stands on its own feet as a fascinating piece of writing. I did find it tough to get into the story for the first couple of chapters. I'm a fan of fast-paced, straight-forward (almost plain) writing and this is the exact opposite of Hawdon's style. She takes her time to develop an almost poetic narrative. I'm so glad I took the time to get used to the writing style because there's a remarkable, and horrific, story here.
The narrative time frame shifts and we meet Jakob and his parents Yavy and Lor and discover what leads the family to the position where Jakob is in hiding alone. I'm a bit reluctant to go into details of the story too much as it unfolds quite beautifully into a story of loss, fear and resilience and I appreciated coming fresh to it rather than prejudiced by too much knowledge.
The last quarter of the book is terrifyingly compelling. The depictions of Gypsies being round-up is violent and heart-rending and later events left me close to tears. Certain passages were like a punch to the stomach. Hawdon never takes the easy way out, instead offering a story that feels completely true.
I'm not sure if it's just because of my pre-existing knowledge but there were hints of other experiences of persecution and genocide throughout the book. Lor faces treatment for mental health issues – mentally ill/disabled and physically disabled people were also regarded as "untermenschen" (sub-human) by the Nazis with mobile gas chambers carrying out euthanasia programmes. Similarly, one of the characters has visited Kigali, the capital of Rwanda and site of genocide in 1994. I wonder if these were deliberate shadows of a larger story.
Jakob's Colours is a hard read but also a must-read. Beautifully written and satisfying as a piece of fiction, it is an important novel in appreciating the full extent of the genocide perpetrated by the Nazis.