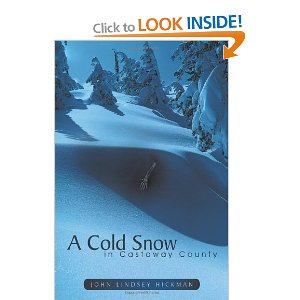 Published: 2011
Author: John Lindsey Hickman
Almost great, but not quite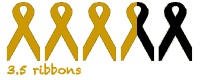 I've not yet visited America but I have a strong sense of what different areas are like. New York City is a place of 24 hour excitement, Los Angeles is glamorous, Chicago is (in my mind at least) a bit like Glasgow in its architecture and personality. One of my most vivid imaginings about America is about New England where it's perpetually autumn (or fall if you must). I see golden leaves on the abundant trees, happy students sitting in beautiful university libraries, pancakes and maple syrup in abundance. When author John Lindsey Hickman contacted me to let me know about his debut novel, A Cold Snow in Castaway County
, I was delighted. This was a great chance to get to know this part of the country before my first visit, albeit fleeting, later this year.
The protagonist Dell Hinton has left his former job in the Boston Police Department after fatally shooting a young boy. His retirement to Maine is interrupted when his friend and local minister suggests that he run for Sheriff of Castaway County. After a rough introduction to local politics Dell wins and takes office becoming quickly embroiled in budgets and staff management. An unsolved murder of a young boy has troubled the previous sheriff for many years and he asks Dell to carry on with the investigation. As Dell looks into the death of Billy Snow he uncovers secrets which damage Castaway County's image as the perfect, safe place to live.
Dell is an attractive hero. He's an everyman who tries his best to keep the peace in the county with common sense rather than resorting to arrest and locking people up. He lives alone with his cat Chauncey who demands lots of love of attention. I laughed at Hickman's description of the "kitty roll" when Hinton arrives home and Chauncey wants petting. I recognised that a lot and now use "kitty roll" whenever I'm describing what my Thomas Cat does when I walk into the house. I like when I read little snippets of real life like this – it made the book instantly more accessible and Dell recognisable.
The story itself is fairly thin, but not dull and the anecdotes of day to day crime control in Castaway County keep the action moving along. In fairness though with so few resources a cold case would be a long, drawn-out experience with investigations slotted in around more pressing matters. And unfortunately that's where the book has its only failing. It's all too real, and real sometimes means pedestrian.
John Lindsey Hickman spent many years in law enforcement and wrote for journals before embarking on a writing career and it shows. Sometimes the book reads a little like a report in a subject-matter journal rather than a piece of fiction and Hickman's voice comes across loud and clear as a narrator. As I was reading I did consider that the book would be better if it was written in the first person, then the voice that was coming over loud and clear would be Dell Hinton's rather than John Hickman's. It's not something that I would normally suggest but I think that changing the narration would have changed this from a good book to a great one.
A Cold Snow In Castaway County is a really good read and I hope there are more stories to come about Dell Hinton and his friends, particularly if they are set in autumn rather than winter. Hickman just has to remember that he is writing fiction these days and just loosen the shackles a little. There's real potential here which isn't quite being met.