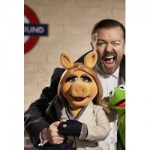 The teaser trailer for Muppets Most Wanted has been released and much to my delight it's very Animal-heavy.  No hint of a plot other than the fact it's a road movie of some sort but that doesn't matter.  It's the Muppets back on our screens.
I know there's been some raised eyebrows over the casting of Ricky Gervais – he really is a marmite figure – but he's so enthusiastic and such a big fan of the Muppets that it can only be a good thing. Add Ty Burrell and Tina Fey and it's looking exciting already.
I'm looking forward to another fabulous trailer campaign from the Muppets team. And of course the movie release in early 2014.