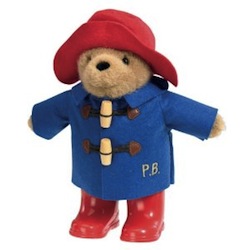 The big screen version of Paddington Bear is due to arrive at the end of this year and I'm both excited and terrified.  For me Paddington is the best of bears.  I never loved Winnie the Pooh and Rupert and his dreadful wardrobe held little interest for me as a child, but the tales of Paddington were mesmerising.  The small, mischievous but loving refugee from Deepest Darkest Peru has a special place in my heart.  I adore Paddington Bear and his adventures with the Brown family.  I so want the film to become a classic family movie.
The teaser trailer has now arrived and, to be honest, doesn't point one way or the other.  We simply know that a bear has arrived in London.  The cast list is interesting – Hugh Bonneville as (I'm assuming) Mr Brown seems a great choice and the cast is full of British star names although I am raising an eyebrow at the inclusion of Nicole Kidman.  The trailer is an international one and clearly keen to draw parallels with Harry Potter – Heyday produced the Potter film series and will want to keep that pedigree in the minds of audiences who may be unfamiliar with our furry hero.
I'm neither excited or horrified by this trailer, just asking the makers to heed the words on Paddington's label.  Please look after this bear – or I, and many others, will be fixing you with hard stares.