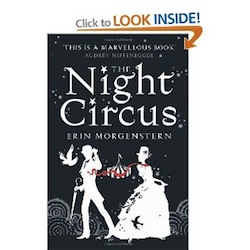 Big news for 10 authors today – Richard and Judy have announced their summer reads and the 10 lucky writers will find their work turned into bestsellers almost overnight.  As usual there's a good mix of titles and I'm sure everyone will find something to enjoy in the selection.  So far I've only read one – The Night Circus – but on first glance I think I could happily pick up any book on the list.  I'm particularly impressed by how relevant the titles are including one set at the Silver Jubilee and one focusing on financial shenanigans.  If the say-so of Richard and Judy wasn't enough then the clever marketing should draw attention to the titles.
The list is:
The Thread
by Victoria Hislop
Jubilee
by Shelly Harris
The Fear Index
by Robert Harris
The Night Circus
by Erin Morgenstern
The Secrets Between Us
by Louise Douglas
The Hypnotist
by Lars Kepler
Tideline
by Penny Hancock
The Book of Summers
by Emylia Hall
A Perfectly Good Man
by Patrick Gale
Alice Bliss
by Laura Harrington
Will you be picking up books from the list?  Or have you already read some?  Let me know your thoughts in the comments.