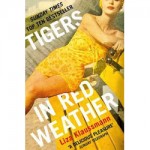 The Richard & Judy Book Club choices for Summer 2013 have been announced. They are:
Tigers in Red Weather
by Liza Klaussman
The Age of Miracles
by Karen Thompson Walker
Close My Eyes
by Sophie McKenzie
This Is How It Ends
by Kathleen MacMahon
Natural Causes
by James Oswald
The Light Between Oceans
by M.L.Stedman
The Sea Change
by Joanna Rossiter
The Universe Versus Alex Woods
by Gavin Extence
The Girl Who Fell From The Sky
by Simon Mawer
The Sea Sisters
by Lucy Clarke
As usual this is an intriguing list which is specifically designed for the readers' enjoyment. I'm actually, completely coincidentally, currently three quarters of the way through the first book on the list Tigers in Red Weather and will be reviewing it in the coming days.
Congratulations to all the authors on the list, they have been given an amazing boost to their profile and sales figures and well done again to Richard and Judy for putting the joy of reading front and centre of British every day life.