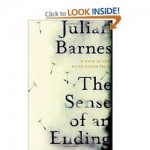 Dame Stella Rimmington, former head of MI6 and chair of the 2011 Man Booker judging panel, announced tonight that Julian Barnes had won the prestigious award for his novel The Sense of an Ending
.  This was Barnes' fourth nomination and he was clearly relieved to have won at last.
In her speech Rimmington took aim at the critics who had accused this year's shortlist of being too dumbed down.  And rightly so, the criticism that the Booker shortlist was too "readable" was ridiculous.  I'm not sure how "readability" can be used as a criticism. Surely we should be celebrating the books that people want to read? Or are literary prizes the sole domain of the lofty critics and not the ordinary reading public?