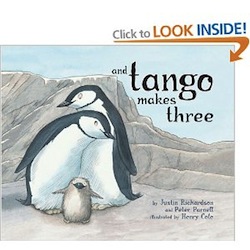 Banned Books Week has been a feature in American libraries for the past 29 years but I've not seen much coverage in the British media.  From 24th September this year UK libraries are coming together to highlight the growing number of challenges libraries are facing for stocking particular books.
One of the most books most commonly challenged is a sweet little children's book called And Tango Makes Three
about two male penguins in a zoo who raise a chick together.
Books which have been included in the Banned Books List include Diary of A Young Girl (Anne Frank), Harry Potter and the Philosopher's Stone, To Kill A Mockingbird and The Wonderful Wizard of Oz.  For more details visit the Banned Books website and urge your local library to participate in this important awareness-raising initiative.