One of my New Year's resolutions this year was to read at least 75 books, that works out at about one and a half a week and it seemed perfectly achievable. But unfortunately I'm not quite keeping up to speed on this one. Last time I wanted to motivate myself I listed 10 books that I wanted to read in the coming weeks, I managed to read 7 of the 10 that I listed and actually coming up with a list gave me a little push to stop faffing around online and get some reading done. So as I'm a little behind schedule I thought I'd try the same tactic again. As with last time I'm choosing and listing at random. Except the first one: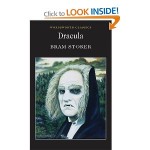 1 Dracula
Bram Stoker's classic vampire tale has been chosen by my book group as our June read. I did read it when I was about 12/13 and I remember enjoying it but that's all I remember so it's a good opportunity to revisit a book that has influenced literature for over 100 years.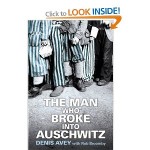 2 The Man Who Broke into Auschwitz
Having studied the Holocaust a lot in a former job I found that the only way to stop feeling an overwhelming grief is to focus on the positives – the stories of the survivors and of rescuers. Dennis Avey was a British soldier who broke into Auschwitz to ensure that the truth about the death camp would be told.
Another of my New Year's resolutions was to read more Science Fiction and Fantasy literature. I've not done brilliantly well with that, although the first book I read of the year was Trudi Canavan's The Magician's Guild, which I thoroughly enjoyed. Robin Hobb's Assassin's Apprentice is next on my list to help get me thoroughly into the habit.
I was delighted to take part in World Book Night earlier this year with my second choice The Road, which I ended up thoroughly enjoying. I bought a number of the books on the list which I hadn't already read and I want to get through as many as possible. Let The Right One In is the second vampire novel on my list. Twilight won't be appearing.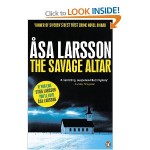 5 The Savage Altar
One of my Twitter friends has been recommending Asa Larsson's The Savage Altar quite relentlessly for a while now and it does look great. I'm a big crime fan as you can probably tell from the number of thrillers that appear in my reviews. Scandinavian crime novels have never disappointed me and I'm expecting more good things from this one.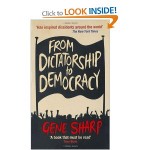 6 From Dictatorship to Democracy
One of my 2011 highlights was attending the Raindance Film Festival and one of the most interesting films was the documentary How To Start A Revolution which looked at the life and influence of Gene Sharp, the man who quite literally wrote the book on overthrowing corrupt regimes. This is that book and I look forward to finding out a bit more about Sharp's theories.
A roll-over from the last time I created a list like this. As the winner of the Orange Prize for fiction will be announced in less than a week it's only right that I think about catching up with the winner from last year. This is a family story set in the Balkans and looks fascinating.
For a crime fan there's surprisingly few crime novels on this list, despite the large number of unread ones on the to-be-read shelf. This one particularly caught my eye as it is based in Saudi Arabia and I don't think I've ever read a book set here. Throw in a strong willed female protagonist and this has the potential to be something fantastic.
This is another of my book club's choices, this time for our July meeting so I have a few weeks to get round to it. This 2011 Booker shortlisted novel wasn't actually much on my radar and there were others on the shortlist which I wanted to get round to first, but that's one of the things I love most about club – it challenges me to read books I would never normally have chosen.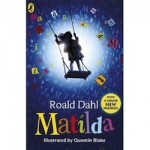 10 Matilda
I didn't say all 75 books had to be big or long did I? I managed to get through childhood without reading any Roald Dahl so my husband bought me a box set so that I could rectify this appalling situation. I've read a couple and loved them, Matilda is next on the list.
Have you read any of these books? What did you think? What books are sitting on your to-be-read pile? Let me know in the comments.