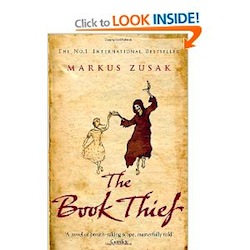 I mentioned a couple of weeks ago that I was taking part in the 2016 Classics Challenge and that I would try to ensure that one book a month would be a "classic" – however classic is defined. The first book I've chosen is The Book Thief
, the Markus Zusak novel about a young girl living in Germany during the Second World War. It was once of the first books I reviewed on here almost five years ago. I haven't written another review, but my opinion from 2011 hasn't changed at all. It's a wonderful, powerful, beautiful love letter to the power of words. I chose it partly because of how much I love it and the fact it's a book I would urge everyone to read but also because this week sees the UK commemorate Holocaust Memorial Day with a theme of "Don't Stand By" and the book fits perfectly into the day and the theme.
This year's challenge encourages readers to consider a number of questions so here's my answers for The Book Thief:
WHEN I Discovered This Classic
I first read The Book Thief about 7/8 years ago and have read it 4 times since. I was working for a charity which promotes Holocaust remembrance and education at the time and part of my job was to suggest reading material for people wanting to find out more. I immediately fell in love with the book and it's a firm favourite.
WHY I Chose to Read It
As I said above, it's a beautiful story which explores the power of words. It was the perfect book to read as we approach Holocaust Memorial Day as it emphasises how seemingly ordinary people can make a big change to the lives of others. The scene where Hans Huberman offers an old Jewish man being marched to Dachau a little bit of bread is the very definition of not standing by.
WHAT Makes It A Classic
It's always hard to know how to classify a classic, particularly a newer novel but I think in the case of The Book Thief it's the impact of the novel which makes it a classic for me. It includes difficult issues in an easily understood way and is powerful without being patronising, sad without being mawkish. Whenever I think of a book about the Holocaust it's top of the list.
WHAT I Thought of This Classic
Absolutely love it – see my review for more thoughts.
WILL It Stay A Classic
Yes, and only grow in stature as the years go by.
WHO I'd Recommend It To
Everyone, but in particular people looking for a greater understanding of the Holocaust, the decisions of "normal" Germans and those who love the power of words.