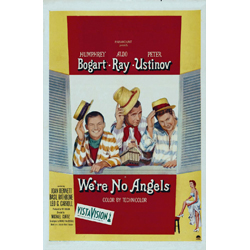 Released: 1955
Director: Michael Curtiz
Starring: Humphrey Bogart, Peter Ustinov, Aldo Ray

A new favourite Christmas film – with unbeatable quotes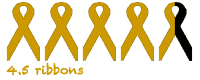 For the past two years we have had a dreadful, dreadful internet connection. Our estate didn't have fibre and the connection speed was worse than in the bad old dial-up days. No Netflix, no Amazon Prime, no Spotify. It was the very epitome of a first world problem. Then a Christmas (Ok, October) miracle. Fibre was installed, we were back in the 21st Century. We could binge-watch box-sets and download apps within a couple of minutes rather than 2 hours. And I could go through Sky Movies and download interesting films without throttling the connection for hours at a time. As it's coming up to Christmas (have I mentioned that yet?) I want to see some seasonal films that I've not watched before and settled on Humphrey Bogart's 1955 We're No Angels
.
Three convicts (Bogart, Peter Ustinov and Aldo Ray) escape from prison on Devil's Island and make their way to a local town where they plan to rob and murder a local shopkeeper and his wife. Finding themselves drawn to the down-on-their luck family, the trio change plans and decide to help the struggling household improve their fortunes and have a successful and merry Christmas. When the vile shop owner arrives, the team turns their villainous attentions to him in order to protect their new friends.
There are so many good things about this film I'm not quite sure where to start. The three leads are excellent, Bogart isn't known for his comedy but was very good as the leader of the gang but the most enjoyable performance came from Ustinov. A bad 'un, but a very polite chap and Ustinov plays him perfectly. There are a number of quotes which were just wonderfully funny – I could go on forever, but one of my favourites was Bogart's rebuke to his friends "We came here to rob them and that's what we're gonna do – beat their heads in, gouge their eyes out, slash their throats. Soon as we wash the dishes."
The supporting cast is fabulous, especially Basil Rathbone as the evil Andre Trochard. Joan Bennett who plays the shopkeeper's wife had been shunned by Hollywood over a scandal but Bogart came to his friend's aid with a part in this film and she is ever so good.
The story is a typical one of redemption at Christmas and there's absolutely nothing wrong with that. Who doesn't fall for a good looking Christmas tree and the promise of turkey by the fire?
I had vaguely heard of We're No Angels before, mostly in reference to the 1989 remake starring Robert De Niro and Sean Penn but I hadn't realised it was a Christmas movie. It's not quite It's A Wonderful Life, but it is heart-warming and enjoyable and a welcome addition to my Christmas list.