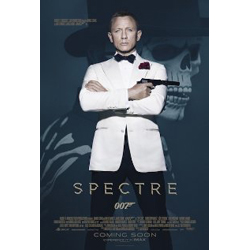 Released: 2015
Director: Sam Mendes
Starring: Daniel Craig, Lea Seydoux, Ralph Fiennes, Christoph Waltz

A classic Bond – beautiful and thrilling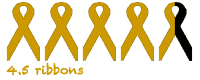 The launch of a new James Bond film is always exciting and a proper "event". I can still remember the excitement of going to see Goldeneye when it was released twenty years ago (clearly I sneaked into the cinema at the age of five). The last film, Skyfall, has a strong claim to being the best Bond film ever which left Spectre with huge expectations and the potential to disappoint a lot of fans. The launch event which introduced the name (I shivered in anticipation), the cast and that car promised so much.
Spectre sees Bond following a cryptic message to uncover a sinister organisation and secrets from his own past which have followed him throughout his career in MI6. As Bond joins forces with Madeleine Swann, the daughter of a past baddie, to fight Spectre M and his team are busy trying to save the 00 programme from the threat posed by Whitehall mandarin Max Denbigh.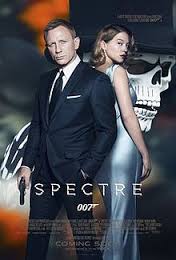 Is Spectre as good as Skyfall? No, not quite. The last film remains the high-water mark for Bond films, but this is still very good. Daniel Craig is at the height of his powers as Bond and is strong and ruthless, but with a hint of sardonic humour. At one point he grins slightly, almost acknowledging the daftness of the action on screen. The supporting cast is fabulous – Ben Whishaw is just wonderful as Q and Ralph Fiennes could well become the perfect M. Christoph Waltz as the chief bad guy Oberhauser has a great deal of fun but perhaps doesn't have quite the menace I'd like to see. Lea Seydoux as Madeleine Swann will surely go down as one of the best Bond Girls – she's strong, capable and bloody gorgeous. I'm not going to go through the entire cast which includes Naomie Harris, Rory Kinnear and Andrew Scott, but there's not one weak link in the acting.
The action is spectacular and gives Bond fans everything they are looking for with a mixture of fast cars, hand-to-hand combat and huge explosions. There's a magnificent supercar chase through the streets of Rome and the pre-credits sequence in Mexico City is heart-stopping. The locations, costumes, and script all gel together to make an impressive spectacle onscreen and the film looks beautiful with the shadowy meeting rooms, the beautiful scenery including the streets of Rome and London's skyline all showcased fabulously. The Sam Smith theme song, which has come in for a degree of criticism, actually works well in context and Daniel Kleinman's title sequence is one of the best and most intriguing I can remember. Second-time director Sam Mendes has brought together a brilliant team and created something quite remarkable.
There are a couple of issues that for me stopped Spectre being just quite as brilliant as Skyfall. The sex scene with Daniel Craig and Monica Bellucci felt slightly awkward to watch and was a rare mis-step in the film (although great to see an older woman in such a role). I also didn't entirely understand how all the stories tied together, but perhaps a rewatch of the first three Daniel Craig films would have made that a bit clearer.
I'm sure James Bond will return, but will Craig? There was both the sense of an ending and the promise of a new chapter in Spectre. I look forward to see what's next – and perhaps who's next – for one of the greatest screen heroes.